Community partnership engages residents in sculpture project
September 1, 2016
/
/
Comments Off

on Community partnership engages residents in sculpture project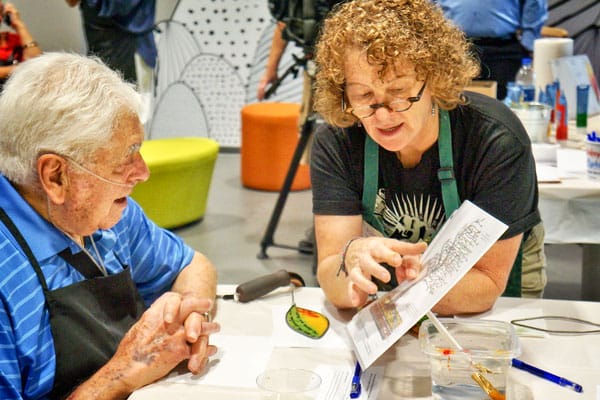 Sculptor Kris Kollasch explains the tree sculpture project to a MorningStar at RidgeGate resident, who is creating his own leaf for the tree. Douglas County Libraries in Lone Tree hosted the art event for MorningStar seniors.


Article and photos by Douglas County Libraries
Douglas County Libraries and MorningStar at RidgeGate recently partnered for the sake of area seniors. Douglas County Libraries hosted pre-opening depositors of MorningStar to create leaves for a steel and mixed-media tree sculpture with the guidance of sculptor Kristine Kollasch. The sculpture, which celebrates the centrality of family and community, will be housed at MorningStar at RidgeGate – a neighbor of Douglas County Libraries in Lone Tree.
The event was very well attended, with MorningStar residents creating 50 leaves over the two days. Individuals signed up for 30-minute art sessions, but most of them had so much fun they ended up staying longer, with the library adding chairs to accommodate these engaged artists.
About Douglas County Libraries, Lone Tree
Open 9 a.m. to 9 p.m., Monday through Thursday; 9 a.m. to 5 p.m., Friday and Saturday; and noon to 5 p.m., Sunday. The library offers 25,000 square feet of space for community use, including eight study rooms and a state-of-the-art event hall. Its expansive collection of lending materials spans two light-filled floors. Additional features include interactive alcoves, a dedicated Storytime space, three second-story terraces, a broad front entry porch, laptop borrowing, stunning public art, and a drive-through book drop. The library hosts multiple adult book clubs each month, boasts an active Teen Library Council, and offers regular Storytimes, Art Stop on the Go events, and educational programs for kids.
About MorningStar Senior Living
Founded in 2003 by Ken Jaeger, MorningStar's portfolio includes 27 properties under operation or development, encompassing more than 3,100 units in 10 states across the western U.S. The premier retirement community project in RidgeGate represents MorningStar's 16th ground-up development. The grand opening of MorningStar, at 10100 Commons Street, is planned for December 2016. For more information, visit MorningStarSeniorLiving.com.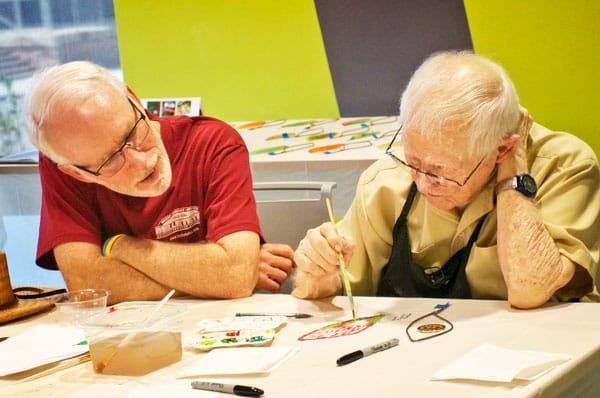 MorningStar at RidgeGate resident Eugene Coogan painted a leaf that will be part of a 9-foot tree sculpture housed at MorningStar at RidgeGate. Coogan plans to include one of his military medallions in his artwork.