Completing Castle Pines North
February 1, 2006
/
/
Comments Off

on Completing Castle Pines North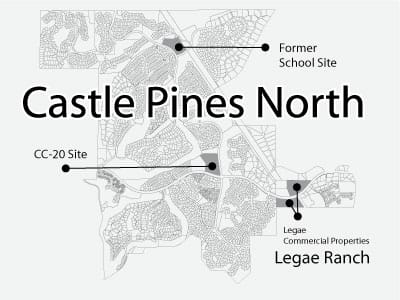 Residents' Task Force Examines Possible Uses of Undeveloped Parcels
Castle Pines North is close to the end of home building; however, there are many questions about the various undeveloped parcels throughout CPN and adjacent areas.

New CPN Completion Task Force Formed
Recently, a Community Completion Task Force comprised of CPN residents was formed to examine potential opportunities and use of remaining parcels. The primary goal of the Task Force is to create, identify, quantify, and communicate a shared vision of how the community can partner with land use interests to attract the optimum completion of undeveloped parcels in Castle Pines North.
"A global view of the entire area was needed, with an eye to completion," said Mark Shively, Metro District Board President, Task Force Chairperson, and 20-year resident of CPN. "This Task Force was designed to look at the vision of how CPN can partner with others to complete our community."
The first CPN Task Force meeting was held at the Community Center on December 8th. During the meeting, the group developed a list of desired potential community amenities. "There is a real need for many civic amenities in this community such as additional parks, school sites, land for churches, a day care center, a library, ball fields and even a full-service recreation center," said Shively.
The Task Force also identified the four undeveloped parcels which include:
CC-20 – This 15-acre parcel is owned by Village Homes and is located on the northwest corner of Castle Pines Parkway and Monarch Boulevard.
Former School Site – Located north of Hidden Pointe Blvd. and Monarch Blvd., this parcel of land is owned by Douglas County and was previously designated as a school site.

Lagae Commercial Property – The land on the southwest corner of Lagae Road and Castle Pines Parkway, located behind the Royal Hill subdivision, is zoned for commercial development. A portion of land adjacent to the DCS Montessori School is also zoned for commercial development. Both commercially-zoned parcels are owned by the Lagae family.
Lagae Ranch – The 600-acre Lagae Ranch is located off Lagae Road (behind King Soopers) and continues south toward Happy Canyon. The property is owned by Jack Vickers, III.

Working Toward Future Projects
While the four remaining parcels are owned by various investors, the Task Force hopes their input will have an impact on future projects. Shively said, "Our goal is to try and partner with developers, Douglas County and others that will play a vital role in the future completion of our community."
Some of the four remaining parcels might also be used for additional housing. According to Shively, any potential housing projects on these remaining parcels would help defray costs related to future renewable water projects through additional tap fees.
The Task Force presented a status report on January 5th to board members from the Castle Pines North Metro District, the Castle Pines North Master Association, and the Castle Pines North Parks Authority. Following the meeting, all three boards voted to endorse and support the efforts of the Task Force.
Members of the Task Force have significant years of volunteer service in CPN, and represent a wide array of interests in the community. Participants include: Betty Allen, Sandy Colling, Rick Dobbs, Chris Fellows, Doug Gilbert, Lillian Gonzalez, Darwin Horan, Joe Sewell, Mark Shively, and Ron Valiga.
While the remaining parcels are owned by private developers, the Task Force will strive to build alliances with key stakeholder groups. "We want to try and have a voice," said Shively. "We want ensure that when Castle Pines North is completed, it will continue to be the best place to live in Douglas County."
The Task Force plans to host several information meetings and research sessions to gather input from CPN residents. For more information, please check for updates at www.cpnhoa.org.