Local Political Parties Hold Precinct Caucuses
March 1, 2006
/
/
Comments Off

on Local Political Parties Hold Precinct Caucuses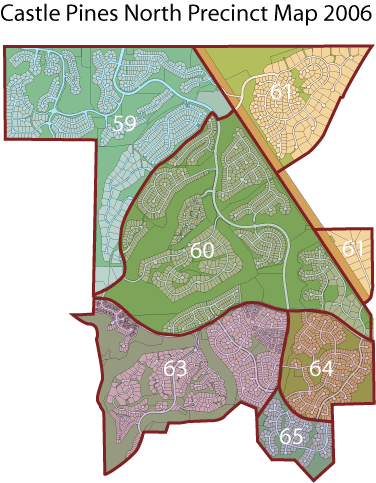 Note: Precinct 61 also includes portions of Oak Hills and Surrey Ridge, and Precincts 63 and 65 also include a small portion of Castle Pines Village.
Douglas County Democrats and Republicans are holding their party's caucuses at locations around the county Tuesday, March 21. Caucus location is determined by precinct. Residents can find out what precinct they will vote in on the map located to the right.
Democratic Caucuses
All Castle Pines North Democrats will be holding their caucuses at the Castle Rock Middle School located at 2575 Meadows Boulevard in Castle Rock from 7 p.m. until 9 p.m. For more information, visit the Douglas County Democrats website. To reach them by phone call 303-539-9048.
Republican Caucuses
Castle Pines North Republicans will be holding their caucuses at locations dependent upon a resident's precinct (refer to the map at the right to determine the appropriate precinct).
Precinct 59 will meet at 6787 Serena Ave
Precinct 60 will meet at 8118 Oak Briar Way
Precinct 61 will meet at 344 Thorn Apple Way
Precinct 63 will meet at 7349 Norfolk Place
Precinct 64 will meet at 7259 Tenby Way
Precinct 65 will meet at 7306 Oxford Drive (HOA2 Clubhouse)
All caucuses will run from 7 p.m. until 9 p.m. For more information, visit the Douglas County Republican website. To reach them by phone call 303-730-0100.
It is through these caucuses that candidates are chosen to represent a particular party in the upcoming election. Caucuses are held in a public place or in a private home that is open to the public. No invitation is required. Registered voters from the neighborhood simply attend and participate. At the caucuses, each party will select representatives to serve as the precinct committee and appoint delegates to the higher conventions/assemblies.
To participate in the precinct caucus, a voter must be a resident of the precinct for 30 days, be registered to vote 29 days before the caucus, and be affiliated with the political party for two months.
Once precinct caucuses are complete, the next step in this multi-level process are the county conventions/assemblies held in April and state conventions/assemblies held in May. Finally, the August primaries will determine which candidate will represent the respective parties on the November ballot.