Daisies troop size makes for a big bunch
February 1, 2010
/
/
Comments Off

on Daisies troop size makes for a big bunch
Troop leader Paige Taylor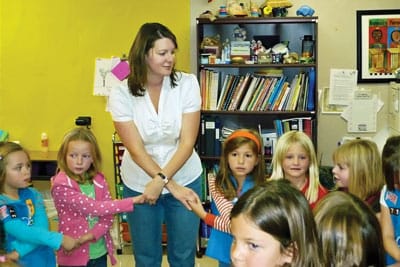 Co-leader Jen Meinert-Larson and Daisies sing "Make new friends" at the closing of the meeting.
by Anthonette Klinkerman
At Buffalo Ridge Elementary, every other Wednesday afternoon, thirty-five girls in blue vests and smocks perch on the art room stools, having a snack before instruction.
These Kindergarten and First Grade girls are all part of the largest Daisy Troop in Castle Pines North (CPN). Daisy is the introductory level of Girl Scouts, a 150-year-old organization, and an obviously popular civic group choice for parents of girls in CPN.
Paige Taylor is the troop leader, though she has three co-leaders and numerous parent volunteers to keep within Girl Scout guidelines for adult to child ratios of one to six. "It is almost overwhelming," she said of the troop size, "But I can't turn away any sweet little first grader. There is no way we could do it without parent help and involvement. Sometimes I have to be a drill sergeant to keep them all focused."
Often, parent volunteers lead their own small groups when they have breakout sessions to discuss the value they are learning. Small circles of girls with hands raised and eager to participate line the hallway, and they share information to make the learning of the value easier.
Taylor started leading four years ago with her daughter's Brownie Troop. This was the beginning level of Girl Scouts in the area until she recognized a need for the organization to reach the littlest girls in the community. "I so believe in the Girl Scout philosophy as a fun and safe way for girls to learn tools for life," she stated. "We will have to split the troop into two or three troops next year."
Taylor noticed that she had a number of new girls join this year. Their families were new to the area, and they were drawn to the organization as a way to integrate their girls quickly.
The girls learn different values, including respect, kindness, honesty, being fair, being courageous and strong, and using resources wisely. They earn a "petal" patch to iron onto their vests and smocks to illustrate their mastery of the concept. In all, the girls who have been in the troop for the last two years will earn eleven petals.
The Daisies sit with faces upturned as Taylor delivers the lesson. Hands fly up to contribute answers to her questions about the values they have learned so far. The chocolate kisses help, too.
Taylor laughed, "It's amazing how much they retain over two weeks. They just grow up right before our very eyes, but I want them to know they can keep a good head on their shoulders, and be a Girl Scout all through high school."
Parents wait in the hallway until 5:30 to pick up their daughters. One by one the girls are released in order to maintain a safe and orderly environment. The Daisies have smiles and crafts for their parents. As parent Mike Kelly said of his daughter Sophia's involvement, "It's just a really great way for her to be included."