Dating, dining and dives – adult night out
November 1, 2013
/
/
Comments Off

on Dating, dining and dives – adult night out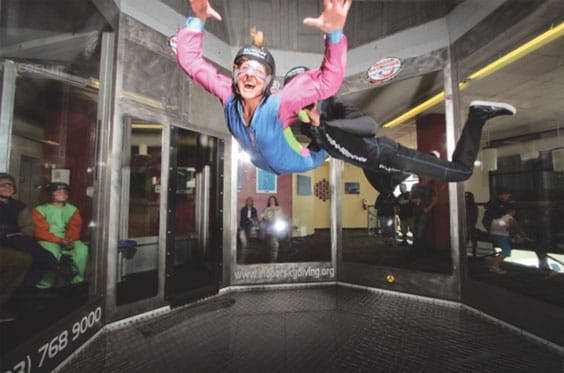 This first-time flyer is having a blast riding the air! SkyVenture Colorado is open Monday –
Sunday from 9 a.m. to 9 p.m. and is located at 9230 Park Meadows Drive in
Lone Tree. Visit www.skyventurecolorado.com or call 303-768-9000.

By Cindy Kessinger; Photos courtesy of SkyVenture Colorado and The Perfect Landing
Are you sometimes at a loss for new and interesting date ideas? Whether celebrating a special anniversary or just wanting to reconnect with your loved one, planning something more creative and exhilarating than dinner and a movie takes some brainstorming. And with kids still in the home, finding the time to set aside an afternoon or evening to rediscover and enjoy each other and plan what to do can be challenging.
Once you find the time, we have the idea as well as the sitters (see Teen Services listing to the right). Dining and dives involves sky diving and dinner. No, not jumping out of an airplane but at SkyVenture Colorado for an amazing sky diving adventure. SkyVenture Colorado is a Colorado owned company offering a vertical wind tunnel where you soar on a column of air. Instructors boast, "It's not a ride … it's an adventure."
Your experience begins with a brief instruction video followed by gearing up (flight suit and helmet provided, bring lace up shoes and dress comfortably). Then fly one-on-one with your instructor, most of whom are professional skydivers. Flights last 60 to 90 seconds in duration, depending upon the package you choose, and are repeated for the total amount of time purchased. Set aside two hours and budget anywhere between $45 to $75 per person. Hours of operation are Monday through Sunday 9 a.m. till 9 p.m. Visit www.skyventurecolorado.com.
To stay with the flying theme, follow with dinner at Perfect Landing Restaurant located near Centennial Airport. Called "Denver's hidden gem," Perfect Landing is a great restaurant for those who love food and airplanes. No flight suit needed, casual attire is fine. Be sure to request a window seat and watch the planes take off and land in the beautiful Colorado sky.

Flight memorabilia hangs throughout the restaurant, adding to the authentic aviation experience.
Perfect Landing offers a unique and authentic aviation dining experience with an extensive menu. Whether looking for a casual meal for breakfast or lunch, or a more contemporary dinner and cocktail experience, the cuisine and extensive first-class wine list are sure to please.
Dine while listening to Boogie Bob play "Fly Me to the Moon" at the piano. He takes requests. For a fun option, have your honey guess where you are going by playing songs like "Free Falling," "Cast Your Fate to the Wind," "I Believe I Can Fly," and "Gonna Fly Now" from the motion picture "Rocky"!
Let your children see you delight in each other and take some time out alone and cast your date to the wind …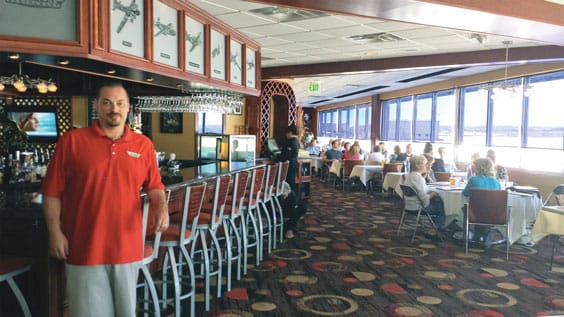 Co-owner Sean Carter welcomes you! Perfect Landing Restaurant is open every day of the week starting at 7 a.m. For additional information, visit www.theperfectlanding.com or call 303-649-4478.