DCSO Partners with CrimeReports to Launch New iPhone Crime Map
January 1, 2010
/
/
Comments Off

on DCSO Partners with CrimeReports to Launch New iPhone Crime Map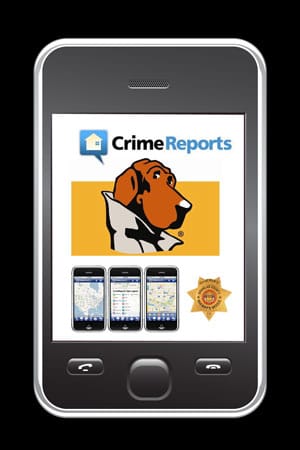 Submitted by Deputy Cocha Heyden
Public Information Officer
Douglas County Sheriff's Office
Douglas County residents can now take their neighborhood crime map with them wherever they go. The new iPhone application will provide citizens with local crime mapping and national sex offender data.
The Douglas County Sheriff's Office already publishes their crime data on the National Crime Map at www.CrimeReports.com and is now making that data even easier to access through the CrimeReports iPhone app. The link is also available on the Sheriff's Office website, www.dcsheriff.net, under the Crime Statistics link.
The CrimeReports iPhone app is free. "This information is vital to our citizens' safety," says Sheriff Dave Weaver. "Providing it to the general public through a mobile device allows citizens even easier access to it than before. We're pleased to be offering the most advanced tools available to foster communication and engagement with community members to prevent and reduce crime."
"The Douglas County Sheriff's Office has already been a leader in citizen communication by sharing their crime data online at CrimeReports.com," says Greg Whisenant, founder and CEO of CrimeReports. "Now they are equipped with another avenue through which to engage Douglas County citizens to build a safer community."
In addition to local crime, the CrimeReports iPhone app also features crime data for more than 600 other law enforcement agencies across North America, and includes registered sex offender data for all 50 states. CrimeReports adds more than 50 agencies to its National Crime Map each month, so coverage is expanding quickly.
The CrimeReports iPhone app allows anyone to:
Filter data by location or address, incident type, and customizable date range
View recent neighborhood level crimes on the map or in a list
View national sex offender data alongside crime in your neighborhood
Sign-up for free, automated, email crime alerts
Request the participation of other surrounding law enforcement agencies if they're not already on-board
The CrimeReports team is also currently planning similar apps for other mobile platforms. You can find out more about the new CrimeReports iPhone app by visiting www.CrimeReports.com/iphone.

About CrimeReports
Working with more than 600 law enforcement agencies across North America, CrimeReports is the largest and most accurate online resource for up-to-date crime and sex offender information. The CrimeReports network offers a family of affordable, easy-to-use software tools for law enforcement agencies to understand crime trends and share up-to-date neighborhood crime data with the public. Community members can access the integrated crime map and receive email crime alerts for free at www.CrimeReports.com, empowering them to make informed decisions to help improve the safety of their neighborhood and community. CrimeReports services are offered by Public Engines, Inc. For more information, visit www.CrimeReports.com.