Deserving employees receive scholarships from club members
August 29, 2014
/
/
Comments Off

on Deserving employees receive scholarships from club members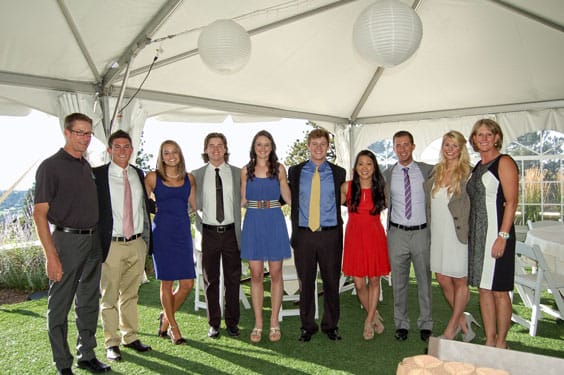 More than $50,000 in scholarship money was awarded to staff members from the Country Club at Castle Pines. Executive Board member Archie Anderson (far left) and Employee Scholarship Foundation President Cindy Lantz (far right) recognized each of the winners at an awards reception on August 6. Pictured left to right: Cody Kent, Lauren Simpson, Reed Wagstaff, Katie Faith, Tyler Wagstaff, Katie Menning, Blake Mounts, and Morgan Adams. Not present: Danielle Chmelik, Danielle Compton, Rob Crespin, and Molly Deat.
Article and photo by Amy Shanahan
Each year the members of the Country Club of Castle Pines award scholarships to deserving club employees and this year set new records in terms of the money raised and the number of scholarships awarded.
The giving of scholarships started in 2007 by one of the club's women's golf associations, and in 2013 an official club committee was formed and all members of the club were solicited and able to donate to the fund. Thanks to the generosity of the club members, a record $50,000 was raised this year to award to outstanding club employees.
The Employee Scholarship Foundation committee received applications from twenty employees, and twelve of them were chosen to receive monetary aid towards their education. These wonderful employees were awarded scholarships based on years of service at the club, their performance reviews as employees, their schooling, current GPA, community service, and financial need.
The recipients are receiving their education in very diverse fields of study. Rob Crespin who works in outside services at the club is in ministry school, while Morgan Adams who works in food and beverage at the club is studying biology at the University of Northern Colorado.
A reception was held on August 6 to honor the scholarship recipients, and each of them offered words of praise and thanks to the members who generously contributed to the fund. Blake Mounts who works in food and beverage and is a scholarship recipient expressed common themes in his words. "The members don't have to do this so it is truly a gift," Mounts remarked. "I appreciate all of the members so much and I'm very happy and proud to work here. Not very many people have the opportunities I have."
President of the Employee Scholarship Foundation Cindy Lantz was extremely thankful and amazed at the generosity of the club members this year. "We put it out there and the members made this so wonderful," Lantz said. "I think we have an outstanding group of employees. The staff is so well liked by the members and they are so hard working, many of them have numerous jobs – they are just phenomenal!"