January 1, 2021
/
/
Comments Off

on Dining a la outdoors
By Bryan Goodland; courtesy photo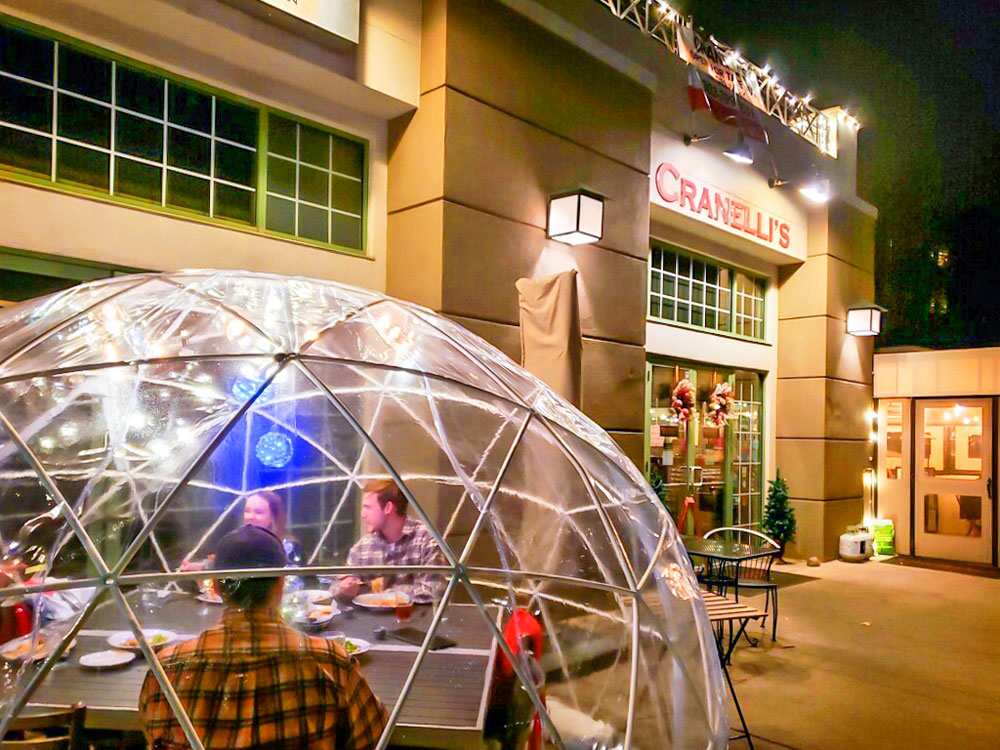 As winter weather and snow begins to roll in, the thought of dining outside doesn't sound very appetizing. Area restaurants have come up with some solutions to this conundrum. Since indoor dining is limited or not available in many areas, restaurants have started to think outside the box, or in this case, outside the restaurant.
Many area restaurants have outdoor patios that are being used with fire pits and heaters to keep patrons warm. In addition to these seasonal standards, igloos, greenhouses and tents have started appearing along sidewalks and in roped off sections of parking lots (and in some cases, streets), allowing patrons to continue to enjoy the outdoor dining experience without being subjected to the whims of Colorado's changing weather.
While Colorado is known for its wintery weather, it is fortunate to partner the cold with many temperate days. Taking full advantage, many restaurants already have outdoor patios and dining areas that allow patrons to enjoy a warm day in January, outside with views of the state's spectacular landscape. Outdoor seating is subject to availability, and capacity restrictions may make reservations a necessity; check before you go.
From grant and loan programs to purchasing igloos, tents and greenhouses to help with cold-weather days, local municipalities have stepped in to help local restaurants provide additional outdoor dining options.
Castle Pines Cares is a grant program established by the City of Castle Pines to help restaurants with outdoor dining and tents, like the new one on the patio of Berg Haus. The City of Lone Tree purchased 40 igloos as part of its WinterCheer partnership with area businesses and restaurants.
If you are not interested in sitting outside, even in a heated tent or igloo, most restaurants offer curbside pickup and delivery services.
Establishments with outdoor dining options:
Castle Pines:
Berg Haus
Duke's Steakhouse
Las Fajitas
Pino's Italian Kitchen & Bar
The Exchange Coffee House
Ziggi's Coffee
The Village at Castle Pines:
Danielle's Scratch Kitchen
MiYO Cafe
Tony's Meats & Market
Trestle's Coastal Cuisine
Castle Rock:
Crave Real Burgers
La Loma
Rockyard Brewing Company
The Library Co. Bar & Kitchen
The Whiskey Lodge
Union An American Bistro
Wild Blue Yonder Brewing
Z'Abbracci
Lone Tree/Park Meadows:
California Pizza Kitchen
Cranelli's
Earls
Fogo de Chão
G-Que Barbeque
Newk's Eatery
Perry's Steakhouse & Grille
PF Chang's
Seasons 52
Sierra
The White Chocolate Grill
Via Baci
Other
Hapa Sushi
Maggiano's Little Italy
The Melting Pot
*While there are many, many others, these restaurants partnered with The Connection in 2020 through advertising, and they continue to invest in the Castle Pines community. When looking for outdoor dining options, please consider them first.