Diversity Day at Regis Jesuit celebrates differences
April 1, 2013
/
/
Comments Off

on Diversity Day at Regis Jesuit celebrates differences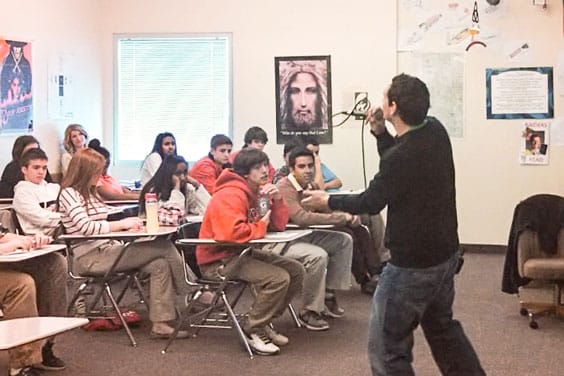 Diversity Day at RJ offers many surprises for students as they learn more about their teachers and each other. RJ theology teacher Matt Klassen is also a rapper named Paradox and he presented a seminar on the history of rap and hip hop in our culture.
By Amy Shanahan; photo courtesy of Regis Jesuit
In its eighth year, Diversity Day at Regis Jesuit High School (RJ) is a special day that is devoted to the students focusing on the various aspects of diversity in our world. Students in both the girls and boys divisions spend an entire day attending sessions, which feature speakers and performers from all over the state of Colorado.
The mission of Diversity Day is to educate and inform the students about other cultures, ways of life, religions, and influences that make up the backgrounds of many of their fellow students, as well as, those they may not have had contact with. Lindsay Glasscock is the diversity director in the girls division, and she helps recruit the speakers and organize the day.
Glasscock remarked, "Diversity Day is a vital part of our overall mission. We believe in caring and educating the whole person and not only respecting but learning about the backgrounds of all members of our community. Diversity Day allows our students to explore their own diversity as well as learn about the diversity that we all have through workshops, interactive presentations, and community speakers."
Every student attended three sessions that featured presentations on topics such as living with Alzheimer's, genocide in Darfur, Buddhism, salsa dancing and its history, inter-faith marriage, and rap music in our society. Noah Simpson is a senior and a leader of the Diversity Club in the boys division, and he felt that the day was a huge success due to the positive feedback from the students. "The Diversity Club helps to create an inclusive environment where everyone at our school is valued for their different ideas and values," Simpson remarked. "Everyone has culture, diversity, something to offer, and their own story. It's ok to share and celebrate those differences as well as, our similarities."
To learn more about Regis Jesuit High School, visit www.regisjesuit.com.