Documentary reveals Valor student's talent and passion
May 1, 2014
/
/
Comments Off

on Documentary reveals Valor student's talent and passion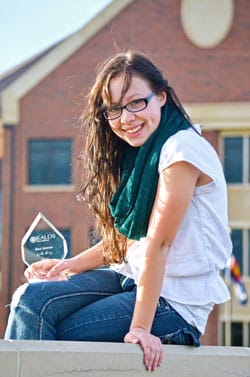 Alyssa Montoya outside Valor Christian High School with her Kalos Film Festival award for the Best Overall Film of 2014.
Article and photo by JulieAnna Reinhardt
The art of filmmaking takes talent and creativity, and Castle Pines resident Alyssa Montoya has made an impact on those around her by bringing to light the subject of teen acceptance. Her passionate documentary entitled "MASKS" outlining the struggles of one's self esteem was the winner of top honors at the Kalos Film Festival this year.
In March, Valor Christian High School hosted the Kalos Film Festival and featured a panel of eight industry-leading professionals who judged Valor student filmmakers' work. Among the judges were Jess Stainbrook, an Emmy winning director; Niki Farmer, a news anchor and producer for NBC Nightly News and The Today Show; and Santino Castellanos, an award winning cinematographer. The results were announced at a private screening of the eight top-nominated films at the Alamo Drafthouse Cinema in Littleton.
The highest award presented at the film festival was the Kalos Award, which exemplifies the overall mastery in all aspects of storytelling and creative technique.
Valor Junior Alyssa Montoya was among those who received top honors for the best overall film of 2014. Montoya wrote, narrated, and starred in "MASKS," a documentary portraying students in our society as having to wear masks to cover their shame of not being perfect. With the help of student director Blain VanNice and student producer/editor David Langin, Montoya's portrayal of this extremely sensitive issue was beautifully expressed through narration and the eye of the camera. Their work captured the personal struggles for a person's acceptance in our highly judgmental and highly superficial culture, as well as the idea of how everyone wears masks to hide what Montoya calls "Their weaknesses they can't accept."
In being awarded the Kalos award, Montoya, VanNice, and Langin were all granted college scholarships and professional equipment rentals from MP&E Cameras and Lighting Denver to create a future film. Montoya also was awarded the overall best actress award for her portrayal of an apathetic student, treading through the waters of adolescence.
In the coming years, Valor Arts and Media hopes to open up submissions for the festival at the state level and strives to morph the festival into a national event as well. To view Montoya's winning documentary (submission 2), and all of the films submitted this year, visit www.kalosfilmfestival.com.