New substation gains City Council approval
April 1, 2014
/
/
Comments Off

on New substation gains City Council approval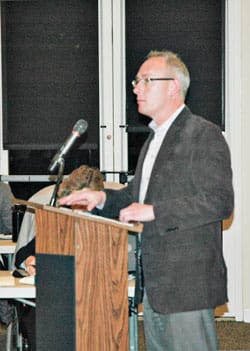 Brooks Kaufman, Lands and Rights of Way Director for IREA, spoke at a city council meeting in February. The council approved the construction of a new IREA substation in The Canyons development, adjacent to Happy Canyon Estates.
Article and photo by Lisa Crockett
In February, the Castle Pines City Council gave the green light for Intermountain Rural Electric Association (IREA) to build a new substation in The Canyons development, adjacent to Happy Canyon Estates.
The six-acre parcel, which is about a quarter mile east of the I-25/Happy Canyon interchange, will be home to a new 115kV to 12.47kV electrical facility known as the "IREA Happy Canyon Substation" and will accommodate future growth and demand in the region.
The project, which has been in various stages of planning and proposals for roughly eight years, reflects collaboration between IREA, The Canyons, and residents of Happy Canyon Estates. After hearing feedback from neighbors about concerns that the substation would negatively affect property values, IREA and the Canyons came up with several novel solutions to mitigate the visual impact of the project. Landscaping and earth berms (essentially building the facility into the side of a hill) around the project will provide natural-looking camouflage. Trees will be planted by The Canyons on adjacent properties to further disguise the facility.
Ross Tilton, a Happy Canyon resident who addressed the council during public comments, stated that he was in favor of the project.
"This substation is necessary for growth to support us all," said Tilton. "The Canyons and IREA have done a great job to make sure all our concerns have been addressed."
Construction on the facility is slated to begin in late 2015 or early 2016, and should go into service approximately nine months after construction begins.