Family "bouncing for bucks" to help African orphans
May 1, 2014
/
/
Comments Off

on Family "bouncing for bucks" to help African orphans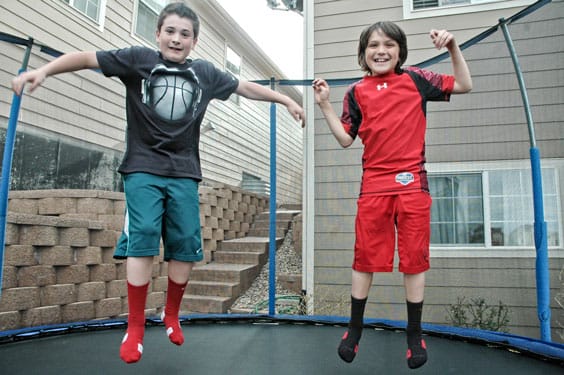 Jumping for Joy: Elliot (left) and Dominic Malsam are helping their parents,
Molly and Randy, run a fundraiser at Jump Street Trampoline Park in Greenwood Village in June. Money will benefit orphanages in Uganda.
Article and photo by Lisa Crockett; photo courtesy of Molly Malsam
Castle Pines residents Molly and Randy Malsam are passionate about helping orphans in Uganda. Randy serves on the board of a charity called True Impact Ministries, a Parker, Colorado group that works to better the lives of children in Uganda through sponsorships, building projects, and charitable donations of goods and money. After a trip to Uganda last year, Randy urged Molly to go too, to witness firsthand the work the group was doing.
"I read a book called 'Radical,' about the wealth Americans have and what we're doing with it," said Molly. "It really shook me, and made me want to do more."
So a few months ago, she packed her bags and headed to Uganda. It was an experience that she said changed her life. Now Randy, Molly and their two sons Dominic and Elliot are all working hard to raise money to provide two orphanages with roughly 20 acres of farmland. The land will allow the orphanages to better meet the basic needs of the children they serve.
"For a year, we're experimenting on living on less money," said Molly. "As a family we've been praying about it. We also looked for fundraising ideas. Because of our kids, we wanted to do something fun."
The Malsams have partnered with Jump Street, an indoor trampoline park in Greenwood Village to raise money. On Monday, June 2 from 6 p.m. until 8 p.m., half of every $14 admission will be donated to True Impact to fund the farm project.
"This is a way we can give back to the community," said Heather Bowie, Jump Street's regional manager for Arizona and Colorado. "Our 'Bounce for Bucks' fundraisers are typically held for schools, but we loved the idea that kids here could come enjoy something fun and also help kids across the world."
Randy grew up on a farm in South Dakota, and Molly said they feel great about being able to provide some of the same benefits he enjoyed as a child to kids they may never get to meet.
"All the orphans I met in Uganda were so joyful and loving," said Molly. "The fact that I can raise money for some of them just thrills me."
Jump Street is located at 7969 Arapahoe Road in Greenwood Village. For more information about Jump Street, visit www.gotjump.com. For more information about True Impact Ministries, visit www.trueimpactministries.com.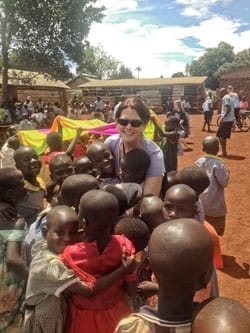 Molly Malsam visits an orphanage in Uganda. She and her husband, Randy, and their two sons are now partnering with Jump Street indoor trampoline park in Greenwood Village to raise money to buy farmland to support two orphanages. (Photo courtesy of Molly Malsam).