CU Denver/Anschutz expand campuses to The Wildlife Experience
May 1, 2014
/
/
Comments Off

on CU Denver/Anschutz expand campuses to The Wildlife Experience

By Elizabeth Wood West; renderings provided by CU Denver
Beginning in mid-August, the University of Colorado Denver and the University of Colorado Denver/Anschutz Medical Campus (CU Denver/Anschutz) will be offering courses for the 2014 fall semester at The Wildlife Experience – the wildlife art/natural history museum and cultural center located one mile east of I-25 at the intersection of Lincoln Avenue and Peoria Street in Parker.
The new campus will be called "University of Colorado South Denver" or "CU South Denver." Dave Liniger, chairman emeritus and co-founder of The Wildlife Experience, came up with the concept of collaborating with CU Denver/Anschutz as a way to continue to serve the south metro Denver community by expanding the educational mission and use of the facility to include programs aimed toward adult education.
The initial programs will align with the CU Denver/Anschutz regular academic calendar and will include: Courses and certificates in general business and entrepreneurship that can be applied toward an MBA degree from the Business School; a trauma workshop and addictions counseling course from the School of Education & Human Development; certificates in software engineering, computer forensics, and computer science teacher education from the College of Engineering and Applied Science; a bachelor of science degree and continuing education courses on emerging topics from the College of Nursing; and a graduate mini-certificate in health systems management with a focus on the healthcare industry from the Colorado School of Public Health. Programs from the University of Colorado's Boulder and Colorado Springs campuses are expected to be included in the future as the popularity of CU Denver South grows.
According to Tony Smith, executive director for CU South Denver, 11,000 square feet of the gallery area on the second floor of The Wildlife Experience will be renovated to create two 48-seat "smart" classrooms, a 32-station computer lab, and faculty office space. The first floor of The Wildlife Experience will remain open to the public and continue its normal operations. CU South Denver will have access to the building's expansive public spaces, including the restaurant, theater, and ballroom.
Looking ahead, Don Elliman, chancellor for the University of Colorado Denver said, "First and foremost, we must focus on having a successful first semester this fall. Moving forward, we'll be able to identify the programming that is best suited for CU South Denver, and expand on that programming. One year from now, we expect to offer courses from CU Boulder and CU Colorado Springs at the south Denver location, and beyond that, we'll evaluate future growth based on demand from the community."
For more information, including upcoming registration, visit
www.ucdenver.edu/southdenver.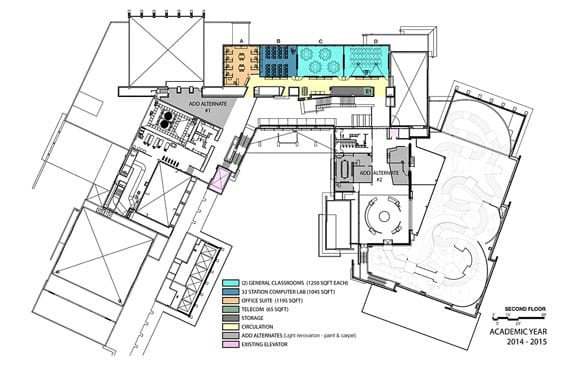 Portions of The Wildlife Experience will be renovated to house
facilities for the new CU South Denver campus.