Fifth grade show re-creates history at Buffalo Ridge
May 1, 2014
/
/
Comments Off

on Fifth grade show re-creates history at Buffalo Ridge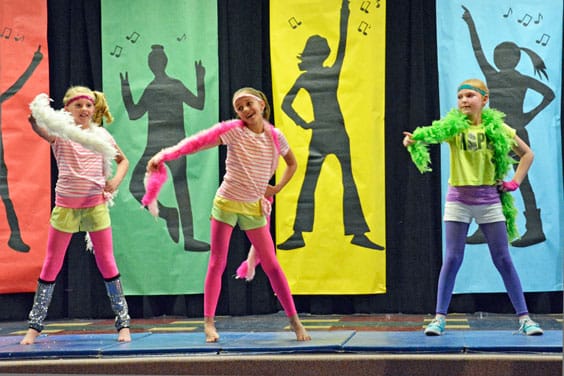 Fifth grade girls Emma and Lucy light up the stage during their
performance of the song "Vogue" during the fifth grade show.
By Jack Basche, BRE Ridgeline staff reporter; photos courtesy of Cari Ogg
For the past 14 years, Buffalo Ridge Elementary (BRE) School has put together an outstanding fifth grade show, and they did not stop this year with their "Evolution of Dance" performance. On April 10, all of BRE's fifth graders took to the stage and received a standing ovation at the end of their spirited performance
Catherine Deneault, BRE's music teacher and the show's musical director, along with the BRE specials team of Ronda Gutierrez and Nancy Macintosh, worked together to create the performance. The kids learned the songs in music; physical routines in P.E.; and created silhouettes of people moving for the scenery in art
Deneault said, "As I was searching for fun arrangements, I found one for the viral video "Evolution of Dance" and thought how fun that would be for the kids to perform." She was right! The fifth grade show had something for everyone to enjoy. There were more than 30 acts, including breathtaking tumbling feats, passionate singers, energetic hula hoopers, and even a crazy unicycle trip across the stage. Songs and routines were set to music from the 1920s through 2000.
All of the fifth graders sang and danced their hearts out when they performed. Fifth grader Jason said, "I liked how hard everyone worked together." The performance included a grand finale set to music throughout history, starting with "Hound Dog" and ending with "Hey Ya."
"We have the most fun kids at BRE. They are all such a pleasure to work with, and I feel so fortunate to be their music teacher," commented Deneault. What a way for the fifth graders to make their mark at BRE!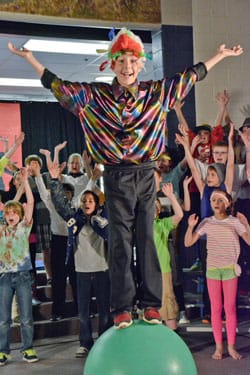 Fifth grader Kyle stands tall atop a giant ball to perform a routine set to the song "YMCA."