Colorado Force to compete at Cooperstown Dreams Park in NY
June 1, 2014
/
/
Comments Off

on Colorado Force to compete at Cooperstown Dreams Park in NY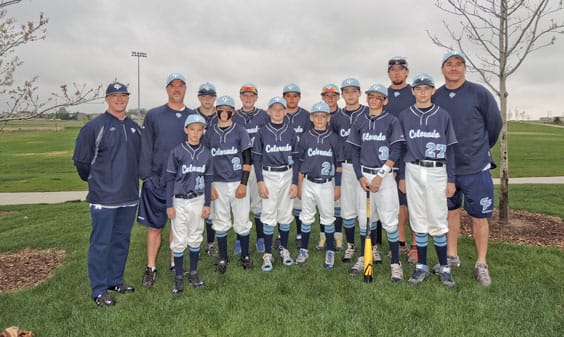 The 12U Colorado Force baseball team will be heading to Cooperstown Dreams Park in New York for competition and a memorable baseball experience. The team includes: Case Williams, Cole Doebele, Cole Greer, Declan Wiesner, Elliott Herrmann, Gavin Roberts, Jackson Yarborough, Josh Pinello, Raef Ruel, Seth Sewell and Ty Lukins. Co-head coaches are Paul Yarborough and Joe Sewell and assistant coaches are Scott Greer and Dave Herrmann. Inset (left to right): Castle Pines residents Jackson Yarborough, Seth Sewell, Declan Wiesner and Elliott Herrmann. Sewell said his favorite part of being on this team is, "All the boys are always supporting each other, motivating each other, and picking each other up."

By Lisa Nicklanovich; photo courtesy of Colorado Force
The Colorado Force, a local independent 12U baseball team, was selected to compete in the American Youth Baseball Hall of Fame Invitational Tournament during the week of June 14 at the Cooperstown Dreams Park in New York. The team is comprised of eleven boys from Castle Pines, Castle Rock and Parker and many have been playing together since they were eight years old.
The four coaches, Paul Yarborough, Joe Sewell, Dave Herrmann and Scott Greer will be accompanying the boys as they compete against teams from all over the country for a national title. The group will also visit the National Baseball Hall of Fame and stay the week in clubhouses along with players from the other teams.
Yarborough, of Hidden Point, whose son Jackson plays second base and outfield said, "We've been on the waitlist for Cooperstown for two years. We've been building up to this and the boys are super excited; it's their World Series."
Yarborough and Sewell, of KnightsBridge, have been co-head coaches for the team for the past four years but knew of each other in high school. Yarborough said, "Even though I played for Smoky Hill, I watched Joe (Sewell) pitch at Columbine when they won the state championship." Yarborough went on to play ball for Otero Junior College and Metro State and Sewell pitched for the University of California at Irvine, then played for the Astros organization in the minors. Both Yarborough and Sewell have lived in Castle Pines for more than 12 years.
Declan Wiesner of Castle Pines Village was playing catch in a friend's yard about four years ago when Yarborough spotted him and convinced him to come out for the team. Yarborough said, "Declan has blossomed into a top catcher and pitcher in the state." Elliott Herrmann of Castle Pines is the youngest and the tallest on the team, a "gentle giant" who, according to Yarborough, may hit the 200-foot outfield fence at Cooperstown.
Sewell, whose son Seth plays second base, center field and pitches, said, "The kids on this team are classmates, friends and brothers. This trip is a life experience and getting to play teams from all corners of the United States will be a good opportunity. We're going to go out there and compete."
Learn more at www.cooperstowndreamspark.com or watch live streaming of the games at http://cooperstownallstarvillage.com/index.php/watch-live/.