Dolphin world series champs; a father's tale
August 1, 2011
/
/
Comments Off

on Dolphin world series champs; a father's tale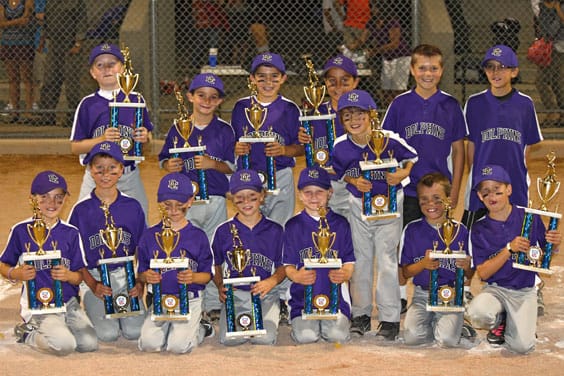 The AYL Dolphin team wielding their championship trophies (pictured from left to right) back row: Dawson DeMier (CP), Nolan Moorhead, Blakely Stoughton (CP), Cade Hughey, Brant Kragel (CP), assistant coach Chase DeMier (CP), and assistant coach Johnny Stoughton (CP); front row: Riley "Rygo" Goings (CP), Kameron Butler (CP), Brayden Jez, Graham Avers (CP), Alec Lush (CP), Luke Goard (CP), and William Love (CPV).
Article and photo submitted by Chad Butler
On Saturday July 2, as ominous thunder clouds loomed in every direction, wide-eyed seven- and eight-year-old DC Dolphin baseball players led by head coach, Jason Kragel, anxiously awaited their opportunity to play for the 8AA National AYL World Series Championship at Metzler Park in Castle Rock. They were about to face the mighty Parker Hawk Orange team, knowing full well they had never beaten them before, not to mention Hawk Orange had won the championship for the past two years running with dreams of a three-peat.
This game was the culmination of a season full of every dramatic baseball scenario you can imagine. There were lessons learned, mistakes made and challenges overcome both by players and coaches alike.
In fact, I would dare to say, if you haven't followed competitive youth baseball, you haven't fully experienced baseball at all! I still get goose bumps thinking about some of the plays I watched eight-year-olds make along with the ear-to-ear grins that quickly followed the play, not to mention deafening cheers from the crowd.
The Dolphins were able to take an early lead, but the score stayed close throughout the first five innings. Going into the sixth and final inning up 10-7, the Dolphins were first to bat. That's when the magic finish to a magic season started. Kameron Butler started an adrenaline-filled hitting bonanza that ended with a score of 20-7 and Hawk Orange facing the largest gap they had ever experienced. Of course, we all knew that they could rally just as well as we did so there was no early celebrating going on.
Almost as expected, the mighty Hawks did come out swinging and scored two quick runs. Right about that time my nervous system was going through another massive fluctuation when our second baseman, Brant Kragel, made one of the best plays of the season. The Hawk batter ripped a line drive that would have frozen 95 percent of young second basemen in their tracks… but not Brant. He literally dove sideways and up to snag the ball out of the highest possible point his small frame could muster getting to. Then, without flinching, he immediately jumped to his feet, spun toward first, and threw out the runner who had started going to second, never expecting that ball to actually be caught; a double play that all but sealed the championship. After scoring one more run, the final score ended 20-10 Dolphins.
I have autographed balls from the likes of Nolan Ryan, Tulo, Helton, etc. But they are all going to be shoved back to make room for my new prized ball with signatures from the World Series 8AA National AYL Champion Dolphins!