February 1, 2011
/
/
Comments Off

on Elk Chops St. Vrain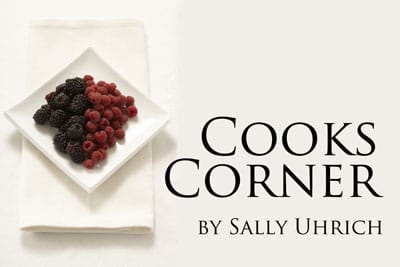 by Sally Uhrich
Find yourself dealing with a bit of holiday let-down, along with a few of the winter blues? Consider spending an evening, entertaining with recipes from The Fort restaurant's cookbook, Shinin' Times at The Fort. The 160 featured recipes range from appetizers to desserts.
One of my favorite recipes is, "Elk Chops St. Vrain." The dry rub creates an irresistible crust, while the huckleberry preserves add just the right amount of sweetness. Both the dry rub and preserves must be purchased online or by phone. However, the result is well worth the effort.
Elk Chops St. Vrain1 (2-3 pound) elk rack, cut into 8 bone-in chops
Canola oil
Salt and freshly-ground black pepper to taste
1 cup huckleberry preserves
Lightly coat the chops with the canola oil and season both sides with the Char Crust and salt and pepper. Grill or broil over high heat, 3 to 5 minutes per side for medium rare. Serve two chops per person, with 2 to 3 tablespoons of warm huckleberry preserves.
To purchase Char Crust dry rub call 1-800-311-9884 or visit www.charcrust.com. The huckleberry preserves may be purchased at 1 800-682-4283 or access www.evagates.com.
The cookbook may be purchased at The Fort restaurant and area bookstores. To purchase online, visit www.thefort.com.