April 1, 2021
/
/
Comments Off

on Epic Snow 2021
By Celeste McNeil; courtesy photos

Last month's snowstorm officially took over the fourth place position in the record books; Colorado started keeping track of snow accumulation in 1881. Official snow totals are recorded at DIA, where this storm dumped 27.1 inches. Blizzard conditions with winds up to 35 miles per hour during much of the storm made accurate snow totals difficult to measure in Douglas County, but some reports stated 23 inches of snow fell in Castle Pines. Some snowdrifts were so large, kids sledded down them after the storm cleared.
Many residents heeded the warning from the National Weather Service and state officials to hunker down and stay home all weekend. Keeping with the unofficial community tradition, local stores had empty shelves on Friday before the storm – no bread, milk, fresh meat, sugar or canned goods, and not a snow shovel or snow blower to be found.
The storm moved in more slowly than predicted, with very little snow Friday evening and drizzle Saturday. Many residents wondered if the storm was hype, or if it would mostly miss the south metro area. Despite these questions, Castle Pines seemed like a ghost town on Saturday – businesses were still open but had very few customers. Douglas County went on accident alert Saturday midday and there were several accidents on northbound I-25 between Castle Rock and RidgeGate. Additional road closures followed, including Peña Boulevard and sections of I-70.
Saturday night and all day Sunday the snow fell and winds blew. DIA preemptively canceled almost 2,000 flights in and out, causing families to scramble and rearrange travel plans. Many remembered the spring break storm of 2003 which deposited 31.8 inches of snow on Denver.
Moisture from this historic snowfall will help reduce drought conditions for much of the state, especially east of the Continental Divide. The precipitation from the storm equated to almost 3 inches of water; that's more than March and April combined, during a typical year.
Residents began digging out Monday. Typical for Colorado weather, the sun was bright, and temperatures were pleasant in the mid-30s.
Many shoveled in light layers of clothing and kids played in the mountains of snow.
Neighbors helped neighbors plowing, shoveling and blowing snow throughout the storm. Residents on Missouri Peak Place collectively "plowed" their street with snowblowers so they could get out of the cul-de-sac and off on their spring break adventures. Cerney Circle neighbors all came together to dig out, including shoveling driveways and sidewalks for families who traveled before the storm hit. Father and son team, Rusty and Josh Fuerst, used their snowblower to help clear driveways for all their neighbors in Beverly Hills. On the east side of I-25, those with snowblowers helped dig out new residents who did not have one. For one appreciative neighbor, a nice bottle of bourbon was payment of thanks.
When Rock Canyon freshman Evan Svoboda learned his neighbor David Brown was working at the hospital Saturday and Sunday through the storm, he kept the Browns' driveway clear so Brown could get in his garage between shifts. Svoboda and his father later cleared 2 feet of snow from the driveway of another neighbor who was out of town. Residents pulled together all over the community to help one another.
Residents with plow blades were out clearing side streets before the city and county crews could get there. Douglas County employed 64 trucks to plow snow from side streets and cul-de-sacs. The City of Castle Pines tweeted "We have dedicated crews with 3 loaders, plow trucks and a grader." The city crews worked tirelessly for days to get the streets safe and clear. It took a community effort to clear the snow.
The Connection ran a photo contest seeking photos of residents enjoying this epic snow day. The winner, Mira Brand, received a $200 Lowe's gift card. Many residents took full advantage of the deep snow and beautiful weather following the storm. Daredevils were on the unofficial sledding hill at Castle Pines Parkway and Monarch Boulevard, as well as the hill by American Academy. Kids skied down the streets before they were plowed and summited the enormous snow mountains after the plows cleared cul-de-sacs.
Chelsey Nielson summed it up, "Going to bed Sunday night and wondering how much snow we might wake up to on Monday felt kind of magical. Monday was what living in Colorado is all about. The kids spent at least eight hours in the snow and ended up exhausted with sunburned faces because it was so beautiful and warm. They made a giant snowman, a snow horse and several "forts" and sledded until it was dark outside."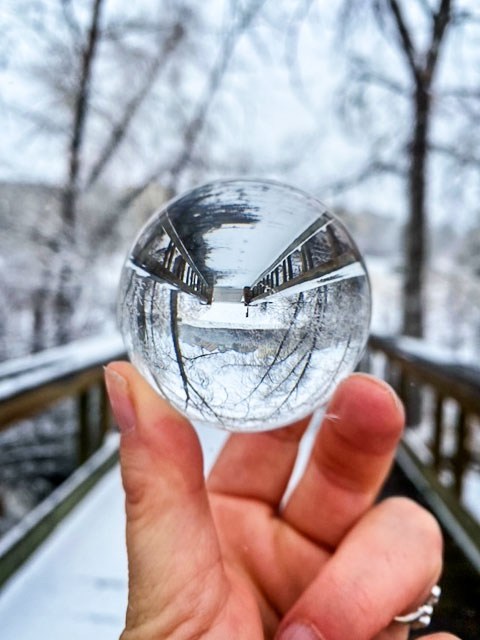 Congratulations to our $200 Lowe's gift card winner!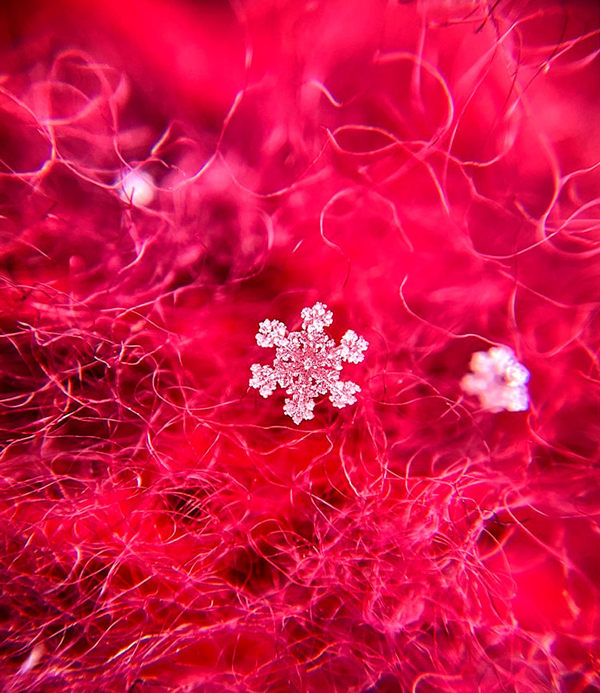 Two local photographers experimented with their surroundings to capture these stunning photos. Pictured above top – Noelle White used a photography ball to take shots on her snowy walk on the trails on Monarch Boulevard near the bridges approaching Castle Pines Parkway. Pictured above lower photo – Mira Brand photographed some snowflakes on her scarf. "Photographing snowflakes is much harder than it seems," stated Brand. Both photos are unedited.