Five Bright Sunbonnets: An invitation
September 27, 2023
/
/
Comments Off

on Five Bright Sunbonnets: An invitation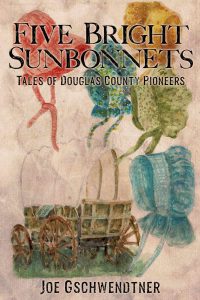 In 2019, friend and former rancher Dennis Niewoehner suggested that I author a collection of stories about the many remarkable characters from The Castle Pines Connection's "Wildcat Lore" column.  As I began, the challenge grew and I uncovered more in-depth history of the settlers, as well as the influencers and facilitators who impacted them on their arrival in Colorado.
At the nucleus of the collection is a dusty pioneering story Dennis found while building a park adjacent to the Town of Parker's famous historic 20-Mile House. The story is an epic tale about five young girls, piled into a covered wagon in Iowa for the long trip across the prairie to Colorado.  As they looked out the back of the wagon, wearing their bright dresses and sunbonnets, they teared up as their father ordered them to throw away their homemade straw dolls, so there would be less weight for the horses to pull.  They were headed west where fate would deal them all new cards…
Five Bright Sunbonnets will be out this month.  Writing it was a challenge!  Not that I did not have help, especially since many chapters had already been researched for The Connection.  For this, I heap effusive praise on a remarkable friend and consummate professional, publisher Terri Wiebold.
Unlike our changing times and often amorphous values, this author remains immutably hardwired.  So too, were the virtues and beliefs of early Douglas County's pioneers.  Although they, like all of us, had their faults.
One may argue that today's America needs a new Plymouth Rock of sorts.  Something solid within and beneath.  A rediscovery of e pluribus unum thinking that might help stitch our heterogeneous cultural DNAs together once again.  Five Bright Sunbonnets addresses these things, the common values of hard work and pride, despite vastly different genetic and cultural backgrounds.  It does not overlook imperfect characters and failures, far more common than successes.
The West, and Douglas County within it, was really not won; it won.  It forced all those dreamers to realize that the land and freedoms they envisioned may exist, but only after they learned the lessons the land taught them, often in the most painful of ways.
Should you care to risk a few dollars, pick up a copy.  I hope you will be pleased.  The book tells much about America.  What it was then, and, despite the heavy mist of 21st century indulgences, fractured politics and surfeit of misinformation, what it can be again.
Climb into Emma's covered wagon to see things as they once were.
By Joe Gschwendtner