Fly the flag with pride this Memorial Day
April 1, 2009
/
/
Comments Off

on Fly the flag with pride this Memorial Day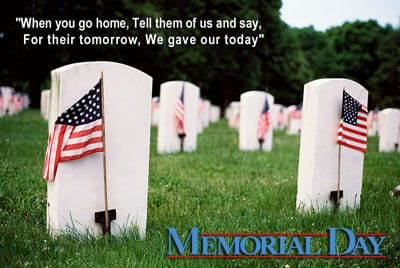 Information contributed by local resident and owner of Show Your Colors Flag Company, Jeff Tomzak
For more than 200 years, the American flag has been the symbol of this nation's strength and unity. It has been a source of pride and inspiration for millions of citizens, and it has been a prominent icon in national history. The Castle Pines Connection encourages homeowners and business owners to display American flags in recognition of Memorial Day, May 25.
Across the United States, Memorial Day is a legal holiday observed annually on the last Monday in May. It is customary to fly the American flag on Memorial Day to honor the nation's armed services personnel who have given their lives for our country in the name of freedom.
A Bit of History –
In the United States, local observances to honor the war dead became widespread following the American Civil War (1861-1865), which had taken more than 600,000 lives. These local observances inspired General John Alexander Logan, the leader of a Union veterans' group called the Grand Army of the Republic, to issue a general's order in 1868 designating May 30 as a day for "strewing with flowers, or otherwise decorating the graves of comrades who died in defense of their country during the late rebellion, and whose bodies now lie in almost every city, village, and hamlet churchyard in the land." (By the late rebellion, Logan meant the Civil War, also known as the War of Rebellion.)
Accordingly, on May 30, 1868, several thousand people gathered to observe Decoration Day at Arlington National Cemetery in Virginia. Government officials such as General Ulysses Grant and James A. Garfield presided over the memorial ceremonies. Following the speeches, thousands of war veterans, orphans, and other participants helped decorate the more than 20,000 graves of Civil War dead in the cemetery.
The holiday was originally called "Decoration Day." Over time, the designation Memorial Day became far more common, and is still used today. Most government offices, including Douglas County offices and the City of Castle Pines North offices will be closed May 25 in observance of Memorial Day.
To contact Show Your Colors Flag Company, call Jeff Tomzak at 303-745-9035 or visit www.sycflags.com.