Former professional track athlete helping local kids reach new heights
July 1, 2012
/
/
Comments Off

on Former professional track athlete helping local kids reach new heights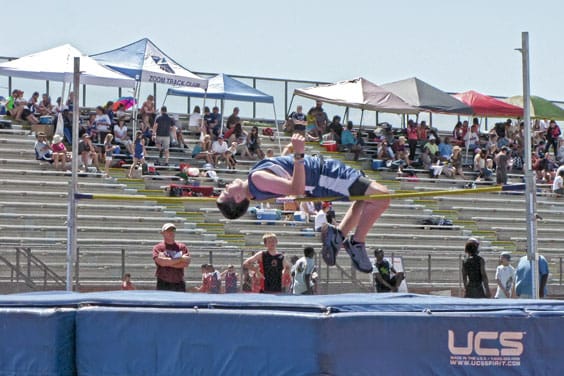 Koby Dudley of Winter Berry may be following in his father's footsteps as a top-notch high jumper.
Submitted By Parker Panthers
Secretly tucked inside the Winter Berry neighborhood is a former Olympic-caliber high jumper named Jason Dudley. While the Dudley family has lived in Castle Pines for nearly ten years, not many residents are privy to Dudley's track accomplishments from more than two decades ago. In fact, Dudley himself allowed those skills to collect dust until last spring – when he was asked to volunteer coach young athletes in the high jump for a local track club.
Parker Panthers is a youth track club located in Parker that caters to youth of any skill level from as young as seven years of age to as old as 18 years of age. The club instills a healthy lifestyle, focuses on building character, and believes in providing the opportunity for all kids to try a variety of track and field events in a fun and healthy environment.
Not only that, Parker Panthers features some pretty impressive names in coaching. While Dudley is still the current record-holder for boy's high jump at Regis Jesuit High School in Aurora (6 feet, 10 inches), he also still holds the men's indoor high jump record at the University of Colorado in Boulder (7 feet, 3 inches). And, with a personal record high of 7 feet 4¾ inches, he is currently listed as the second all-time best high jumper hailing from a Colorado high school.
"The Parker Panthers Track Club is a wonderful program for kids of all levels of ability and experience to participate in organized track and field," said Dudley. "Head Coaches Brent Timmons and Ross Cargo each have a seemingly endless supply of energy, and they do a tremendous job of teaching young athletes about track and field in a supportive and fun environment."
The coaches have also assembled a top notch group of experienced and dedicated coaches, and they do it all for a very reasonable cost. "My own children have learned a great deal about competition, about winning and losing, and about what it takes to be a track and field athlete from participating in Parker Panthers," confided Dudley. "They also made some great friends along the way!"
Dudley's passion for track and field was reignited when fellow Castle Pines resident, Mike Opp casually mentioned how rewarding Parker Panthers has been for his multi-event twins over the years. A resident of Forest Park, Opp is also a highly awarded former track athlete (shot put and discus) who is another one of the high caliber coaches with the Panthers.
In fact, it is inspiring to see the coaching talent lined up purely as volunteers for one of the lesser-known track clubs in the area. What is more, these coaches believe in offering a high quality track and field experience, regardless of whether or not their athletes will continue in the sport of track and field in the future.
"Some Parker Panthers may never participate in track and field again, some may take their abilities to the next level, and some may become Olympians one day," said Dudley. "All of them, however, get to experience a fun atmosphere with great competition, make some new friends, and get some good coaching."
Dudley, who also has two sons participating in the Parker Panthers program, says he is very proud to be a part of the Parker Panthers. He sees that the kids put in a lot of hard work on the track, and says it is extremely gratifying to see their hard work pay off when they reach their goals.
For more information about the Parker Panthers, call 720-842-0153 or e-mail Coach Brent Timmons or e-mail Coach Ross Cargo. More information can also be found at www.eteamz.com/parkerpanthers/.