January 1, 2016
/
/
Comments Off

on Freezin' for a reason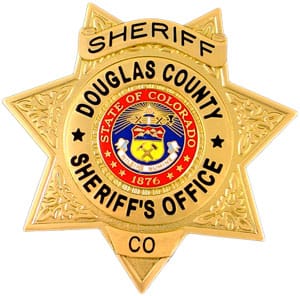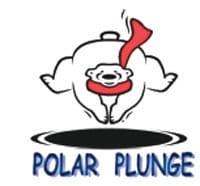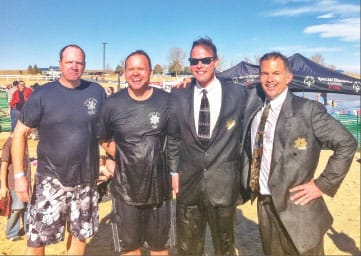 In 2014, polar plungers Detective Chad Teller, Sergeant Ron Hanavan, Captain Jason Kennedy, and County Attorney Kelly Dunaway jumped in the freezing water – Armani suits and all. Spectators are encouraged to bundle up and cheer on Douglas County's local law enforcement heroes for the Polar Plunge at the Aurora Reservoir on February 20 and support the Special Olympics of Colorado.

By Patte Smith; photo courtesy of the Douglas County Community Resources Division
It takes an honest and secure man to admit to his limitations, and Douglas County Deputy Sheriff Jason Blanchard is such a man. "I am a pansy when the weather turns cold," laughed Blanchard. "Nevertheless, I am going to leap into bitter cold, icy, frosty, and chilly – did I mention absolutely freezing water – for a very worthwhile cause, the Special Olympics of Colorado."
Joining Blanchard in the Douglas County Sheriff's Office 2016 Polar Plunge on February 20 at the Aurora Reservoir are some notable individuals. Sheriff Tony Spurlock, Undersheriff Holly Nicholson-Kluth, Division Chief Steve Johnson, Division Chief Tim Moore, Captain Darren Weekly and Corporal Chris Stadler, as well as numerous fellow deputies and specialists are the daring divers who have dubbed themselves as the "Douglas County Sheriff's Office Shock & Thaw" team.
"I came here from warm and sunny Arizona and my enthusiasm seems to wane when I envision the slushy hole of water that we are all going to plunge into, but we are going to do it," emphatically stated Blanchard. "We have some new blood this year and we are coaxing others to join us too."
Jump in and take the plunge! Participants can register at www.specialolympicsco.org; the fee is $75. If you are able to financially contribute to this great cause, there are two additional ways to make a donation: (1) write a check payable to "Douglas County Sheriff's Office" with "Polar Plunge" in the memo line, then mail or hand deliver to the Douglas County Sheriff's Office Community Resources Division, 4000 Justice Way, Castle Rock, CO, 80109; or (2) log on to theas Special Olympics website to donate via credit card at http://www.specialolympicsco.org/give/polar-plunge/.
Any amount helps and the "Douglas County Sheriff's Office Shock & Thaw" team wants to thank everyone in advance for their generosity. These daredevils assert that "our temporary suffering is well worth supporting the amazing athletes of Special Olympics of Colorado."