Friendship, warmth and giving were served at the CPV Garden Club luncheon
January 1, 2014
/
/
Comments Off

on Friendship, warmth and giving were served at the CPV Garden Club luncheon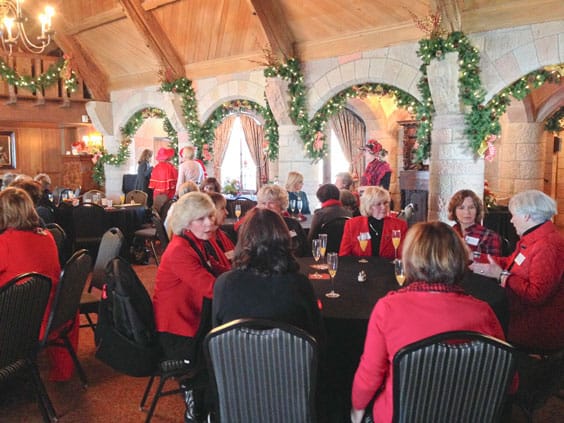 Sixty-two women attended the annual Castle Pines Village Garden Club luncheon
at the Cherokee Ranch and Castle. The beautiful décor was the perfect
backdrop to an afternoon filled with music, good food and friends.
Article and photo by Amy Shanahan
The Castle Pines Village Garden Club (CPVGC) held its annual Christmas brunch at the beautiful Cherokee Ranch and Castle on Friday, December 6. The CPVGC is made up of a group of women who share a love of gardening, socializing and charity. The Christmas brunch was a time for the women to visit with friends both new and old, and also to raise money for a fabulous cause.
Amy McCandless, the director of development from The Women's Crisis and Family Outreach Center (WCFOC) attended the brunch and spoke to the women about the important work that her organization does in aiding families affected by violence. Through donations on a "giving tree" and door prize money, the luncheon attendees collected $2,300 which was given to the WCFOC.
Michele Volkl, the Special Events Coordinator for the Garden Club remarked, "We always look forward to this annual traditional event at the Cherokee Castle, showcasing an extraordinary festive setting for our Holiday Brunch. It's a wonderful time to celebrate friendship, share the holiday spirit and give back to the community."
The CPVGC meets throughout the year and is always looking for new members. To learn more, or to become a member, please visit www.cpvgc.org.