Giving back to the Castle Pines community through swimming
August 1, 2019
/
/
Comments Off

on Giving back to the Castle Pines community through swimming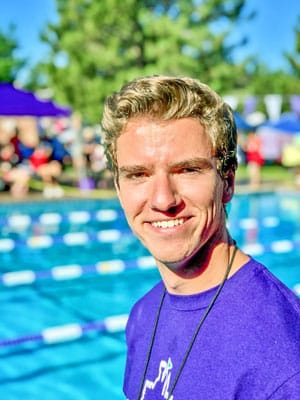 Alec Celecki says his years swimming and working for the Castle Crocs swim team has been a highlight of his summer for the past 14 years. Alec Celecki, pictured below at age 8, proudly posed for a picture after making his first All Star time in the 25 meter butterfly.

By Carin R. Kirkegaard; photos courtesy of Mira Brand and the Celecki family
What makes a neighborhood? Is it safe streets, good schools, trails and parks or a convenient location? Yes, but perhaps, the most important component is the people who live there and their connection with each other. Castle Crocs Head Coach Alec Celecki was raised on this concept through his involvement with the Castle Pines swim team over the past 14 years.
From its inception, the team's mission was to foster a sense of community through swimming. When founding member Colette Celecki started the team, she envisioned a team where coaching roles would eventually be filled with swimmers from the neighborhood. The goal was to help local kids develop both as young adults and swimmers.
Coach Celecki is the embodiment of her vision. He started swimming with the Crocs in 2006, the team's inaugural year. Celecki spent every summer competing for the Crocs until age 18. Then he brought his competitive edge to the coaches relay at the end of each meet in the summer.
At 14, Celecki threw his hat in the ring to be a junior coach. Instead of getting paid, Celecki chose volunteer community service hours. Then Celecki was hired as an assistant coach, mentoring in the last year to become the head coach. The past three summers Celecki has been the Crocs head coach.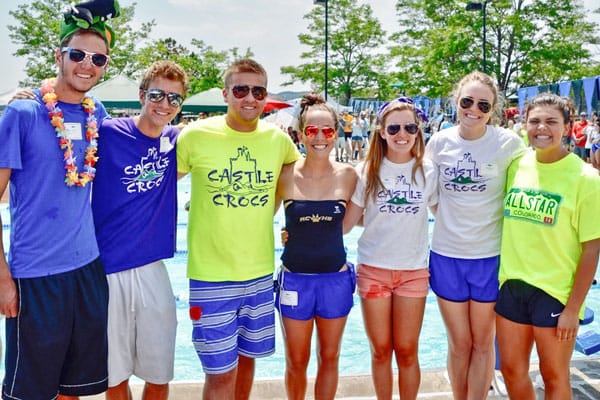 Alec Celecki poses with fellow coaches poolside. Celecki said that this summer was one of the best. The coaches organized trivia nights at Duke's Steakhouse, had sleepovers before meets and spent hot afternoons creating posters to hang at swim meets. Pictured left to right are Jared Jordan, Alec Celecki, Forest Templin, Brooke Celecki, Maria Zehnder, Holly Dawson and Erin Kelley.

At the end of this season, Celecki plans to hang up his cap and goggles. He will graduate from the University of Colorado in May 2020 and plans to pursue a career in data analytics. His hopes are to stay in Colorado. "It's hard to leave such a beautiful state when you live here," he said.
Reflecting on his time with the Crocs, Celecki has many fond memories. The most memorable being an 8 and under swimmer. In the preliminary swim meet that summer, he just missed making an All Star time in the 25 meter butterfly. He had one more chance to swim the event at the league's championship meet the following Saturday where he turned on the after burners and made the cut.
As a coach, Celecki's best moments are watching the young swimmers he leads. "It is great to see a swimmer reach the goal they are aiming for, whether it is that first dive or perfecting a stroke. Seeing that moment when it clicks in a swimmer's eye is why I do it," he said.