Golf pro named Colorado's first
September 1, 2015
/
/
Comments Off

on Golf pro named Colorado's first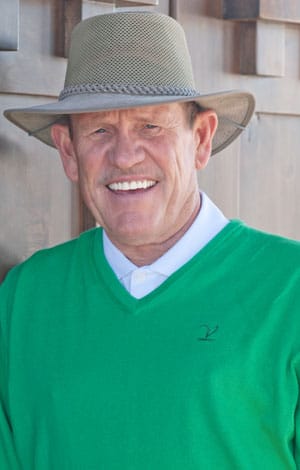 Fifteen year Castle Pines resident Dennis Murray is the only pro golfer in Colorado history to be named both Teacher of the Year (2015) and Player of the Year (1982).

By Kathy Fallert; photo courtesy of Dennis Murray
We've all heard the saying, "those who can, DO; those who can't, TEACH." Not so for professional golf coach and Castle Pines resident Dennis Murray. A teaching professional at Valley Country Club in Centennial, Murray was just named the 2015 PGA Teacher of the Year. This makes Murray the only professional golfer in Colorado to have won both the Teacher of the Year award as well as the Player of the Year award (1982) in the history of the Colorado Section PGA.
Murray, a long time resident of Colorado and 15-year resident of Castle Pines appropriately resides adjacent to the 18th green at The Ridge at Castle Pines North golf course with his wife Gail. Murray has been teaching golf for 40 years and spent 14 of those years as the golf pro at The Ridge until 2013.
Murray remarked, "Being a golf coach allows me to earn a living doing what I love to do; promoting the great game of golf, getting beginners hooked on golf and helping every golfer play better golf. It's a blessing beyond belief! My goal is to do this always and to never retire!"
That is not the end of the accolades for Murray, who was also voted Colorado's best golf instructor for men and top three instructors for juniors by the readers of Colorado Avid Golfer magazine. Hall of Fame bound Murray also won the Rocky Mountain Section PGA Championship, The Rocky Mountain Open, the Wyoming Senior Open as well as other Colorado Section PGA tournaments. Murray serves as chairman of the Colorado Section PGA Senior and remains immersed in the game of golf in a long list of capacities.
Murray commented about his recent award, "Being recognized by the Colorado Section PGA as Teacher of the Year is an amazing honor and humbling experience; most of all, it's a tribute to those great men and women that mentored me along the way."