I-25 South Gap project hits midway marker
October 1, 2020
/
/
Comments Off

on I-25 South Gap project hits midway marker
By Chris Michlewicz; photos courtesy of CDOT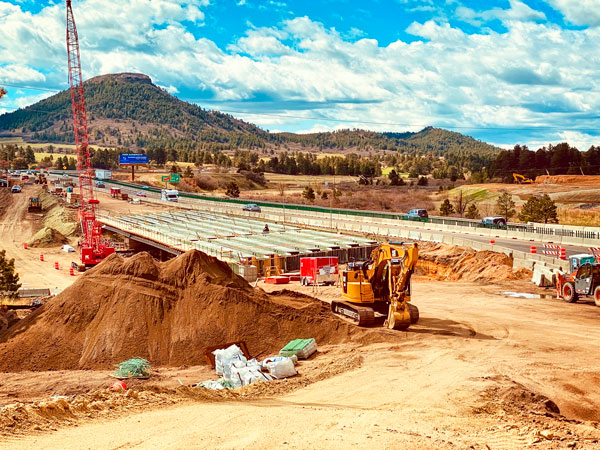 A four-year-long construction project designed to improve safety and traffic flow along a heavily-used stretch of I-25 south of Castle Rock has reached the halfway point.
The I-25 South Gap project is creating new express lanes, widening the highway from two to three lanes in each direction between Castle Rock and Monument. The Colorado Department of Transportation (CDOT) is also rebuilding bridges, widening the shoulders of the interstate, creating four new wildlife crossings, installing deer fencing and resurfacing the roadway with a fresh layer of pavement.
The duration of the project has twice been extended due to the addition of construction work resulting from the availability of new funding. Work along the 18-mile stretch of highway is now scheduled for completion in 2022.
However, the northernmost section of the project – between Plum Creek Parkway and Tomah Road/Sky View Lane – is expected to wrap up next month.
One of the primary goals for the I-25 South Gap project is to improve safety for motorists and emergency responders, said Tamara Rollison, CDOT's Region 1 spokesperson.
I-25 between Castle Rock and Monument has been the site of several multi-vehicle crashes during winter storms, and the improvements will provide better access and more space for emergency vehicles.
Approximately 66% of crashes in the gap are caused by rear-end collisions, resulting in nearly 80% of all injury-related crashes between Castle Rock and Monument. Speeding and following too closely continue to be an issue during construction, and CDOT is asking motorists to drive below the 60 mph maximum speed limit, Rollison said. The Colorado State Patrol has increased enforcement by using air patrols.
The new lanes will operate as express lanes, allowing motorists the choice of taking the express lane for a faster travel time in exchange for a toll. Express lanes will be free to motorcycles and vehicles with three or more people.
To learn more, visit https://www.codot.gov/projects/i25-south-gap or call the project hotline at 720-745-5434.
Ongoing lane closures occur between 8 p.m. and 5 a.m. Sunday through Friday.
The project is expected to cost $350 million, with contributions from Douglas and El Paso counties, the Pikes Peak Rural
Transportation Authority and a federal Infrastructure for Rebuilding America grant.
The state's construction contractor is Kraemer North America. With the exception of a few subcontractors bowing out, COVID-19 has not had a major impact on the gap project.
The I-25 South Gap project is currently the longest construction zone in Colorado.
Crews will widen shoulders outside and inside the travel lanes for vehicle pull-off and emergency response. This improvement will also help with drainage.
The entire 18-mile project area will get new pavement, requiring 850,000 tons of asphalt.