I-25 Widening Project Set to Begin From Lincoln Ave. to Castle Rock
February 1, 2009
/
/
Comments Off

on I-25 Widening Project Set to Begin From Lincoln Ave. to Castle Rock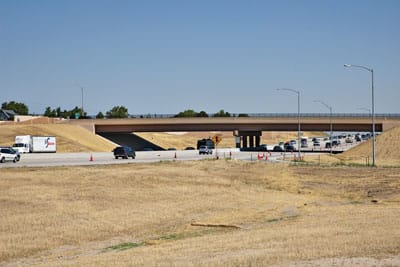 by Lane Roberts
Castle Pines residents should get used to seeing additional orange cones along I-25.
In spring 2009, the Colorado Department of Transportation (CDOT) will begin widening 10.3 miles of I-25 from three to four lanes between Lincoln Avenue and the Founders/Meadows Parkway exit in Castle Rock.
According to CDOT, the work will consist of building an additional lane on both northbound and southbound I-25. Re-striping of I-25 between Castle Pines Parkway and the Founders/Meadows exit will also begin in order to accommodate a fourth lane in each direction.
Additional work includes extending the existing box culverts, retaining wall construction on the west side of I-25 near Surrey Ridge, and building a new guardrail.
"Widening I-25 will help maximize safety as well as accommodate increasing traffic and population growth," said CDOT Resident Engineer Carrie DeJiacomo. "CDOT's goal is to upgrade this vital transportation corridor and the widening and frontage road projects are a continuation of that goal."
Once the new frontage road adjacent to I-25 is complete, expect to see increased traffic at Castle Pines Parkway. CDOT says the two exits to Surrey Ridge will be closed.
CDOT says that occasional "shoulder closures" can be expected during the day, but any work impacting I-25 will be preformed at night.
The $10.9 million project is scheduled to be completed in September 2009. CDOT construction information is available at www.cotrip.org or by calling 511 statewide.