April 1, 2014
/
/
Comments Off

on Pink Lemonade Mousse
Light and lemony for springtime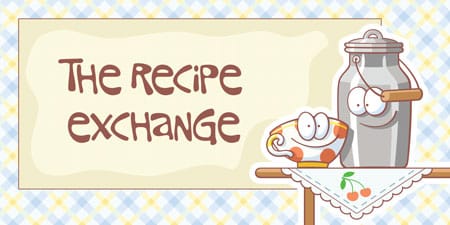 Article and photo by Lisa Crockett
Every season has its celebrations and I love them all. In my opinion, a good celebration always includes some kind of special dessert. Pumpkin pie for Thanksgiving, cookies at Christmas, and chocolate truffles on Valentine's Day are a few of my favorites. This time of year, my thoughts always turn to things that fit with the warming weather, fresh tender plants and flowers, and all the things we celebrate this time of year – Easter, Mother's Day, graduation.
There are lots of parties to celebrate these occasions, and more often than not, they're the kinds of gatherings that lend themselves to buffet-style serving. Snacks and treats that allow casual coming and going are a good fit, and I love to find ways to attractively serve things as single servings. What looks good as a whole – a cake or a pie, say – sometimes doesn't look quite as appealing on the serving table once it's been sliced into.
I also love desserts that are simultaneously festive looking and tasting but are also easy to prepare – especially when I'm cooking for a crowd. Custards and mousses fit this bill really well since they can be made in large batches and spooned into pretty cups for a nice presentation. They also don't require any time in the oven or on the stove, which makes for a streamlined production process in the kitchen.
I recently made massive quantities of the mousse featured here for a baby shower. Tinted pink and topped with a tiny lemon wedge and a strawberry, they were the perfect way to welcome a new baby girl. But I think it would also be a lovely addition to a Mother's Day brunch table or graduation celebration. If you're feeling more ambitious, layer cubed white cake, berries, and dollops of this mousse in custard cups for a springtime trifle. For a more homey dessert, sprinkle crushed graham crackers in the bottom of your serving cups to provide a little contrast in texture and taste.
No matter how you serve it, the brightness of the lemon combined with the silky richness of the cream cheese and heavy cream will make any day feel more festive. Happy spring!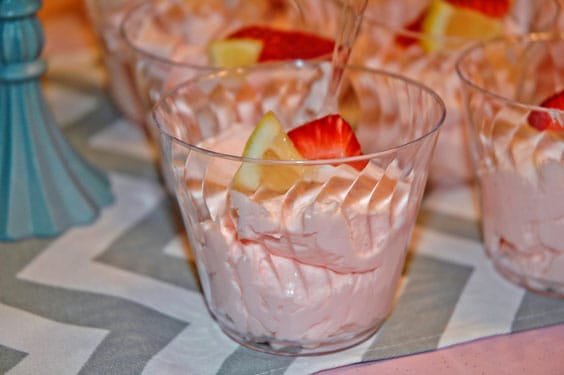 This light citrus mousse makes a festive and pretty addition to any spring holiday buffet or meal. It can also be layered with berries and cake for a sweet spring trifle.
Pink Lemonade Mousse
– 8 ounces (one regular-sized brick) of cream cheese
– 1 cup sugar – 2-3 drops red food coloring
– 6 tablespoons lemon juice – 3 cups heavy cream
– 2 teaspoons vanilla extract – 2 teaspoons lemon extract
– Berries and lemon slices for garnish, optional
Allow the cream cheese to come to room temperature, then using a hand mixer whip it with the sugar, lemon juice and lemon extract until mixture is smooth and well combined. In another bowl, using clean cold beaters, whip the cream until stiff peaks form. Combine the cream cheese mixture with the cream, blending thoroughly. Add food coloring and spoon into serving cups. Chill for at least an hour. When ready to serve, garnish with lemon slices and berries if desired.