Local law enforcement equips kids for success
August 1, 2009
/
/
Comments Off

on Local law enforcement equips kids for success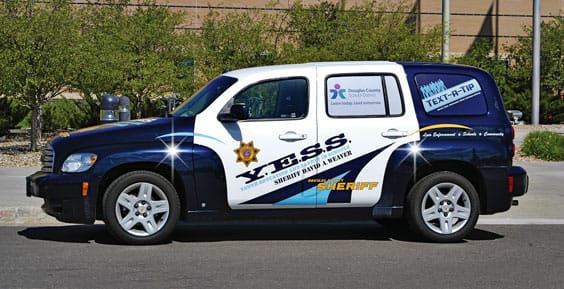 Information submitted by Douglas County Sheriff's Office
The Douglas County Sheriff's Office (DCSO) is proud to announce the newly created Youth Education and Safety in Schools (Y.E.S.S.) program that will kick off in August for the 2009/2010 school year.
The Y.E.S.S. program is a collaborative effort between the Douglas County School District, the DCSO, and the Castle Rock and Parker Police departments, demonstrating the DCSO's continued commitment to the youth of Douglas County and the importance of positive learning experiences in the lives of our youth.
Y.E.S.S. features many programs in local High Schools for youth, including the Text-A-Tip program that allows students to text the Sheriff's Office and the Douglas County Schools with any safety and security concerns regarding their schools.
Also starting in August of this year, the Y.E.S.S. program will focus on our middle schools by offering innovative class presentations instructed by police officers and teachers covering topic areas such as Internet/Cyber safety, peer pressure, bullying, drug and alcohol resistance, and teen suicide prevention. All Douglas County middle school students are welcome to participate.
Equipping our youth with additional knowledge and resources will assist them in making positive life choices, resulting in a safer and stronger community.
For additional information on the Y.E.S.S. program, please visit www.dcsheriff.net or call Y.E.S.S. coordinator Phyllis Harvey at 303-814-7033.