Making bundt cakes is a science at American Academy
December 1, 2013
/
/
Comments Off

on Making bundt cakes is a science at American Academy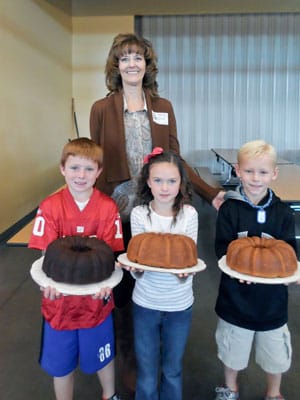 The Bundt Shoppe owner Pam Randall pictured with AA first graders (from left to right) Pierce, Morgan, and Jackson engineered a new flavor of cake for Halloween called Yummy Mummy.
Information and photo provided by American Academy
First graders at American Academy (AA), along with STEM instructor Chris Todd and The Bundt Shoppe owner Pam Randall, got together this fall for a very special STEM unit and have produced a new bundt cake flavor. The cake was the culmination of a very fun unit during which the first graders learned about the engineering design process and its main elements: ask, imagine, plan, create and improve.
The students had to create recipes for a play dough, test the success of their recipes, receive feedback on their play dough, and then adjust their recipes and products based on that feedback. Randall joined the students and outlined the steps she takes to create a new cake flavor at her store in Castle Pines. Randall brought in three new bundt cake flavors for the students to smell and taste in a blind test, which were vanilla bundt with Nerds, vanilla bundt with Heath Bars, and chocolate bundt with marshmallows and caramel balls.
The object of this lesson was to show how the chemical engineering design process works outside of a classroom or lab. "Ms. Randall is a chemical engineer because she took raw materials and mixed them together to make something else," said one of the students.
The students rated the cake flavors and voted on their favorites to determine a winner. Randall even let the first graders choose a name for the winning cake, which was chocolate bundt with marshmallows and caramel balls. The name in the spirit of Halloween was Yummy Mummy and was featured in The Bundt Shoppe from October 21 through October 31.