Master Association Bids Farewell to Board Member
October 1, 2008
/
/
Comments Off

on Master Association Bids Farewell to Board Member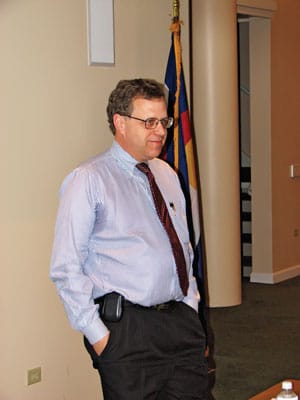 by Anthonette Klinkerman
While it is never an easy decision to resign from a position to which one has contributed so much, it is sometimes a necessary move. Recently, Master Association Vice President Doug Gilbert resigned his position with the Master Association after almost five years of volunteer service with the board.
Last November, Gilbert was elected as treasurer for the city of Castle Pines North; a position that has required much time and dedication. Gilbert resigned from the Master Association in an effort to focus more of his time and efforts on his duties as treasurer.
"Given the demands of the office of city treasurer, my extensive involvement in city finances, and the critical nature of the financial directions that we must now set for our city, my belief is that I need to focus only on the city treasurer position," stated Gilbert in his letter of resignation to the Master Association board.
The entire board thanked Gilbert for his efforts leading the incorporation of the City of Castle Pines North and his years of service to the Master Association.

New Board Member Appointed
In September, the Master Association board appointed Earl Millspaugh as a new director. Millspaugh is a resident of BristleCone Patio Homes and serves as a HOA board member. Millspaugh served as an Election Commissioner during the incorporation effort and is also currently on the Financial Advisory Committee for the CPN Metro District. His term ends November, 2010.