May is National Bike Month
May 1, 2020
/
/
Comments Off

on May is National Bike Month
Information provided by the League of American Bicyclists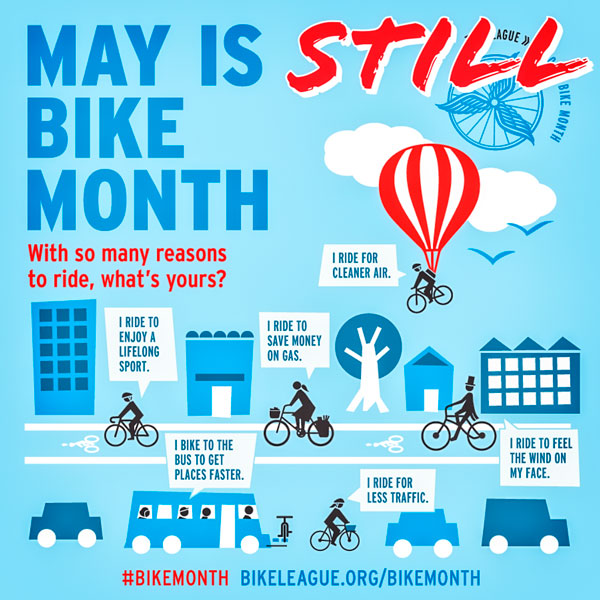 May is National Bike Month, and although it may sound cliché, every month really is bike month.
Established in 1956 and promoted by the League of American Bicyclists, National Bike Month is celebrated in communities from coast to coast and is a chance to showcase the many benefits of bicycling – and encourage more folks to give biking a try.
This National Bike Month will necessarily be different. With less focus on biking to work, the focus is on riding "there," whether "there" is to the grocery store for essentials or to the creek and back with the kids. The goal is to encourage everyone to think beyond biking to work and move toward a holistic approach to integrating bicycling into as many aspects of our daily lives as possible.
Already, we are seeing so many people rediscovering the joy of getting outside on a bike. Our way of life is changing, and some of those changes are thankfully temporary. Let's try to hold onto this embrace of biking and enjoying the outdoors. Let's use National Bike Month to celebrate what joy we have, the physical and mental health biking brings us, and the humble bicycle that unites us all – even as we stay apart and at home.
In Colorado, communities normally host National Bike Month and associated Bike to Work Week events in June. This year, however, National Bike to Work Week will take place September 21-27. Bike to Work Day will be Tuesday, September 22.
For additional bicycling resources, visit https://www.codot.gov/.