May 1, 2020
/
/
Comments Off

on Telemedicine –
Healing from a Distance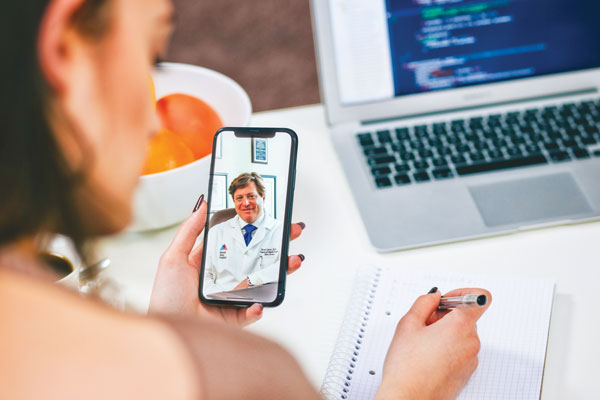 By Lisa Nicklanovich
Telemedicine is a tool that makes healthcare more accessible. It allows physicians to practice medicine virtually. It used to be primarily utilized as a way to reach patients who had difficulties accessing a physician, such as seniors and those residing in rural or other remote locations. That all changed with COVID-19 when our state and local governments asked us to social distance.
Many providers went from not practicing telemedicine at all to using it for the majority of patient appointments – within a couple of weeks. The surge was aided by the relaxation of federal regulations on privacy and reimbursement that previously limited the use of telemedicine. Patients were having doctor visits using a smartphone, tablet or laptop or using a patient portal web browser to speak with their provider safely from their own home by video.
There have always been many benefits to telemedicine. The patient usually does not have to wait as long for an appointment or drive to an appointment and wait in the waiting room. With telemedicine, less time is needed off from work and childcare is not needed. The patient is not exposing others to contagious diseases or being exposed themselves. From a provider perspective, telemedicine dramatically reduces the use of personal protective equipment.
"Truly, we are watching the telehealth industry and American healthcare overall transform in front of our eyes," said Hannah LaDow, MPH, Account Manager at NextGen Healthcare, Inc. "COVID-19 is the catalyst that catapulted telehealth to the forefront of safe, effective healthcare provision, giving patients a time and cost-saving option to see their own doctors when they need them,"
Lynn Jost, a community resident said, "Telehealth has been a great alternative for my healthcare needs during these strange times. It was very easy to set up an account and get up and running to speak with my providers in minutes. I think I'd like to continue using telehealth if the appointment was a simple checkup or something minimal where I don't need to see the provider in person. The ease of it all was too convenient to not want it in the future."
LaDow added that the field is getting much more sophisticated. Emerging integrated technologies like digital spirometers that evaluate respiratory issues and electrocardiogram enabled smartwatches are increasingly being used to assess patients' physical conditions virtually.
Dr. Brian J. Burns, MD, an internal medicine specialist and community resident stated, "I think the younger folks in our community will definitely 'get it' as far as understanding telemedicine. I would encourage our older population to have an open mind as we use technology to touch more lives and heal more people."