Meet Maycee Taylor; we knew her when …
May 1, 2019
/
/
Comments Off

on Meet Maycee Taylor; we knew her when …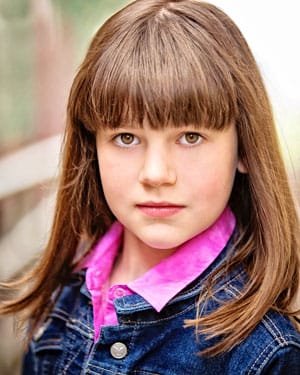 Maycee Taylor is a very well-rounded 9-year-old.
By Nancy Koontz; photos courtesy of Jennifer Taylor
Buffalo Ridge Elementary student Maycee Taylor is only 9 years old, but she is quite remarkable. After being screened and tested in the first grade, it was determined she was a gifted child who possessed high intelligence, artistic creativity, leadership qualities and the potential to reach heights many kids her age might not experience.
Maycee is a breath of true happiness who inspires everyone she meets with her poise and vast knowledge of just about any subject. Like most children, she has that lovable spirit of playfulness, but talk with Maycee and you see a young lady wise beyond her years. When she sent back her Q & A to this interview, it was hard to believe these were answers given by a third-grader. After spending a fun day with Maycee, I came away realizing every word came from this brilliant young girl who still possesses the gift of innocence.

Maycee, you and your family have done quite a bit of traveling together. What has been your favorite adventure? My family loves to travel, and I have been to 14 different countries. I love all of our adventures for different reasons, but my favorite adventure was in Cuba. I got to drive a horse and carriage around the city of Havana. I also got to ride in an old convertible car from the '50s.

What makes you such a unique 9-year-old? I participate in a lot of different activities, such as acting, taekwondo and piano. I love school, I like to read, and I love math. I have won my school science fair three years in a row and I'm currently working on my project for this year. My topic is, "Is time travel possible?" It's especially timely considering we just saw pictures of a black hole for the first time!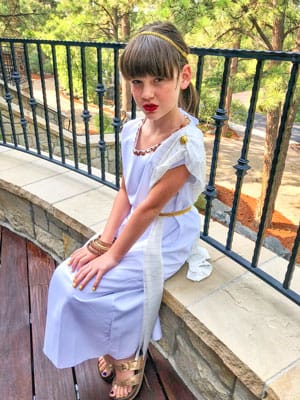 A young aspiring actor, Maycee embodied Helena in an adaptation of Shakespeare's "A Midsummer Night's Dream."
Wow…. Modeling, acting, singing. How did you get into doing all this? I started doing plays at school in kindergarten and after six different plays, I realized I wanted to take it to the next level. I auditioned for the Colorado School of Acting and am currently in my second year of that program. Last summer I got to play Helena in "A Midsummer Night's Dream" – I LOVE Shakespeare. I have been given the opportunity to perform in front of several industry professionals, and I'm proud to say that I now have an agent in Colorado, as well as a manager and agent in Los Angeles.
Maycee's resume to date includes four short films, a music video, a performance at the Santa Monica Playhouse in California, an improv performance at the Bovine Metropolis in Denver, and Maycee was one of the youngest kids ever to participate in a class at the famous improv school in Hollywood called The Groundlings. (Will Ferrell, Maya Rudolph, Lisa Kudrow and Melissa McCarthy are a handful of famous comedians who got their start there.) Maycee is currently preparing for a role in another short film, which will shoot later this month. She is learning to play Chopin's Nocturne Op. 9 No. 2 for this role. In addition to acting, Maycee is also a brand representative (model) for two kids clothing lines and a jewelry company.
Do you want to have a career in the entertainment industry or do modeling as an adult? After doing some research on my own, I approached my parents last year and told them that I wanted to study engineering at MIT. I would love to use my degree to invent things to help make people's lives better and pursue acting on the side. I would love to move to Los Angeles to do all of this.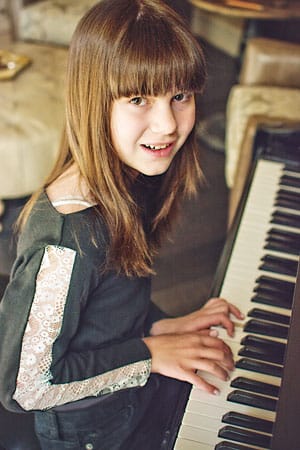 Playing piano is one of Maycee's many passions and talents.
What makes you happy and what makes you sad? I love spending time with my friends and family. I'm really lucky to have four awesome grandparents that all live close by. I also have lots of other family that I love to hang out with. I get very sad when I hear stories about people who are suffering or sick. I'm sad for kids that don't have loving families who take care of them.
What is the next endeavor you want to pursue? I got a guitar for Christmas. I haven't taken any official lessons, but that is my next project!
What do you like about living in The Village at Castle Pines? I feel very safe and secure. I love it when animals come through my yard; we regularly see the elk and occasionally a bobcat. I have yet to see a bear, but I would like to.
With the guidance of her parents, Jennifer and Doug Taylor, Maycee's life journey is bound to move in exciting directions. With her sense of adventure and love of learning, Maycee will no doubt continue to explore new challenges. On her young "bucket list" is to explore the world with her parents; attend college at MIT; be involved in making time-travel a reality; create a robot that does pretty much everything; and "go boldly where no one has gone before."