Middle and high school media head to Massachusetts
December 1, 2013
/
/
Comments Off

on Middle and high school media head to Massachusetts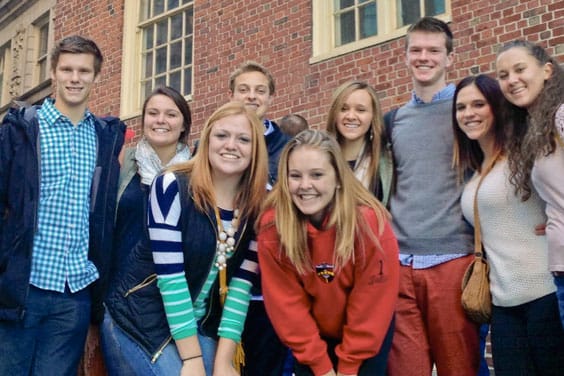 Rock Canyon students pose in front of the Old State House in Boston, Massachusetts during the National High School Press Association's Fall Conference November 14-17.
By Michael Shapiro, RCHS intern writer; photo courtesy of RCHS yearbook
From November 14 through November 17, more than 5,000 middle school and high school journalism students from across the nation descended upon Boston, Massachusetts for the National High School Press Association (NHSPA) National Journalism Conference. Among those 5,000 students were nine students from Rock Canyon High School (RCHS) and more than twenty-five students from Rocky Heights Middle School (RHMS), many of them Castle Pines residents.
At this conference, students were able to attend a multitude of journalism-based seminars, with topics ranging from newspaper and yearbook design, to magazine production and editorial writing technique.
Students attended seminars given not only by journalism educators and advisors, but also by renowned columnists and video producers from around the nation such as PBS' "Frontline" producer Raney Aronson-Rath and Boston Globe sports columnist Bob Ryan. At these seminars, students were able to delve into the world of professional journalism and learn how to improve their own work from the experts.
"Attending sessions delivered by professionals really helped improve my journalism skills," RCHS senior Julia Henning said. "It was awesome listening to experts talk about what they have used to make their publication successful and then figuring out how to adapt that for my staff back at Rock Canyon."
The trip was not only about business, however. The students were able to experience all that Boston had to offer each afternoon and evening after their morning sessions. Accompanied by RCHS newspaper and yearbook advisors Kristi Rathbun and Aly Mazza, as well as RHMS general media advisor Scott Melanson, students explored a wide variety of Boston tradition and entertainment from seeing the Blue Man Group live in concert to taking a boat tour of the Charles River.
"I really enjoyed the opportunity that I was given to go out and explore the streets of Boston," said Castle Pines resident and RCHS junior Kelcey Beckman. "It was great being out of the suburbs and experiencing the city lifestyle, and I found all the different types of people to be very artistic and diverse. Overall, it was a really fantastic trip"

Photo courtesy of Scott Melanson
In addition to attending the convention and learning from some of the top journalism professionals in the country, the students from RHMS were thrilled to see many sites in Boston, including Fenway Park.
RHMS proudly took home a third place award for "Best in Show" which was voted on by more than 5,000 attendees, and a fifth place award for "Photo of the Year."
RHMS yearbook teacher Scott Melanson remarked, "I was incredibly proud that our yearbook did so well. The competition is tough and to be recognized at this level is a huge honor."