New club at Rocky Heights focuses on service to the community
March 1, 2013
/
/
Comments Off

on New club at Rocky Heights focuses on service to the community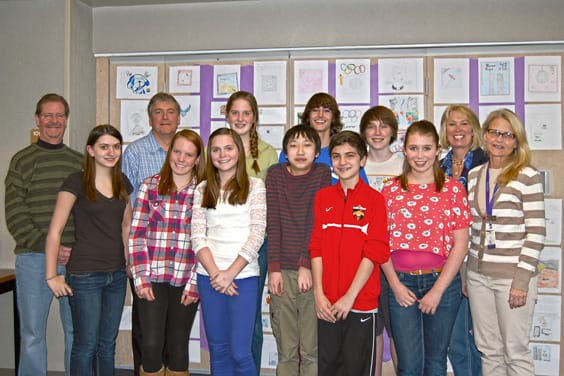 Members of the Castle Pines Rotary Club attend each meeting of the new Interact club at RHMS and lend their support to these outstanding students. The Interact club is open to students in sixth through eighth grade at RHMS. Rotary members Jeff Mantz, Gary Bartmann, and Lisa Bartmann, along with RHMS counselor Kate Egan are pictured with the club members.
Article and photo by Amy Shanahan
The students and staff at Rocky Heights Middle School (RHMS) place a great deal of importance on service to their local community, and the new Interact club is a testimony to that. The Interact club is an offshoot of Rotary International and is being supported at RHMS by members of the local Castle Pines Rotary Club.
The Interact club is for students, ages twelve to eighteen, and focuses on service to both the local and international community. This past summer, five current eighth grade students at RHMS were selected to attend a Rotary sponsored leadership camp called Rotary Youth Leadership Awards (RYLA). Eighth grade student Jason Lewis attended the camp and remarked, "My favorite part of RYLA last summer was the pure fun and great experience of meeting new people and participating in activities to grow stronger relationships."
The experience of these students at RYLA inspired them to start the Interact club at their school. The club currently has around ten members, and is self-governed and led by a board of four elected students. Members of the Castle Pines Rotary Club attend each meeting and RHMS counselor Kate Egan provides support from within RHMS. The club is required to complete two service projects; one that services the local community, and another that services an international need. The club provides a great opportunity for students to learn about leadership and taking initiative, while providing acts of service. Lewis, who serves as vice president of the club, further remarked, "The main thing we hope to accomplish is to interact with, and better the community."
The eighth grade students plan to take this club to Rock Canyon High School next year. For more information about the Interact club at RHMS, please e-mail Kate Egan, kate.egan@dcsdk12.org.