Calling all teens: Your library needs you!
February 1, 2013
/
/
Comments Off

on Calling all teens: Your library needs you!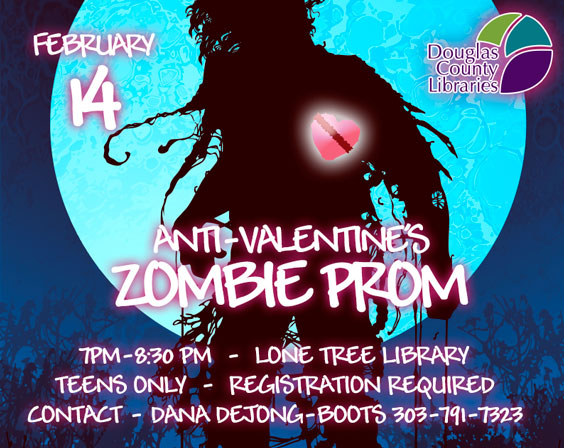 By Lynne Marsala Basche

Local teens, do you want a fun, friendly, creative way to get involved in your neighborhood and earn school community service hours? If so, the Teen Library Council (TLC) is looking for volunteers like you!
Created in 2008, the TLC encourages teens to get involved in their community through the Douglas County Libraries (DCL). All middle and high schoolers can join their local TLC and give input into the types of services DCL offers teens, as well as assist with events primarily geared towards elementary school-aged children. This year, the TLC will help plan and host the Stuffed Animal Sleepover, Fall Fest, and one yet-to-be determined event, created solely by the TLC. There is also an Anti-Valentines Zombie Prom just for teens. Event participation includes planning, choosing and making games and activities, as well as volunteering at the various stations on event days.
The TLC meets the second Thursday each month from 7:00 p.m. – 8:30 p.m. at the Lone Tree Library. (If participation increases, a second monthly meeting may be added, alternating between the Lone Tree and Castle Pines branches.) Meetings include snacks, activities, and brainstorming for upcoming programs.
Come and be a voice for fellow teens just for fun or while earning mandatory community service hours for every attended meeting and event. (The average TLC volunteer earns 20 hours per year.) In addition, library staff members can write letters of recommendation for colleges and employers.
For more information about the TLC, visit www.teens.douglascountylibraries.org. To complete and submit the student volunteer application form, go to www.douglascountylibraries.org/AboutUs/Volunteer. (Please note that the parental permission form must also be completed and brought to the first meeting for anyone younger than the age of 14.)