Investors explore new roadway extension to Parker
March 1, 2013
/
/
Comments Off

on Investors explore new roadway extension to Parker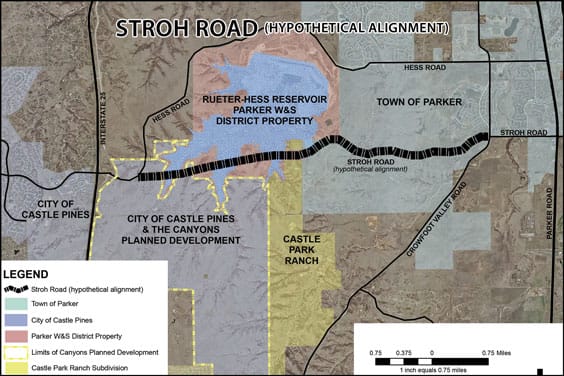 A group of investors is looking to partner with local officials and the federal government for a new roadway proposal that could connect the City of Castle Pines to the Town of Parker.
By Elizabeth Wood West; map provided by Douglas County
Discussions about a new eight-mile roadway extending due east from Castle Pines Parkway and connecting to Stroh Road in Parker are underway, and a group of unnamed private investors are leading the conversation.
According to a spokesman for the marketing firm PAW and Associates, John Lay, "It will bring great economic possibilities for everyone in the area." Lay said that the new roadway would fill the "donut's hole" in this area of Douglas County and provide a much-needed east/west connection from I-25 to Parker Road.
It has been estimated that more than $7 billion dollars could be generated from residential, commercial, and retail development along the roadway's corridor. "Clearly this will be a major boost to the viability of the Town of Parker as well as critical demand for the Rueter-Hess water impoundment, which currently has only 5,300 acre feet of available water," he stated.
Lay was unable to confirm whether the roadway's investors currently own any of the adjacent property, but said the land could be purchased and later donated for the roadway.
Lay said he has presented the roadway proposal to Douglas County, Parker Water and Sanitation District (PWSD), the Town of Parker, and The Canyons' owners – and reactions have been mixed. The Canyons General Manager Mark Nickless said, "We don't know where the road is going to go; we don't know what stance the city will take; we don't know what impact, if any, it will have on us … We just don't have enough information about it."
Sam Bishop, the City of Castle Pines community development director said, "The city has not been approached or contacted about the proposed [roadway] expansion." He stated, "I recently attended a meeting in the Town of Parker and was of the impression that they had not been approached either."
The concept of the proposed roadway is not a totally new one and was originally part of the Denver Regional Council of Government's (DRCOG) Transportation Improvement Plan. PWSD objected to the earlier Douglas County-proposed road alignment that could have required the bridging of Rueter-Hess Reservoir's inlet channels. At the time, PWSD officials expressed concern that road chemicals and possible hazardous material spills could impact their customers' water supply. Last year's completion and opening of Hess Road was the result of Douglas County successfully working through PWSD's concerns.
Douglas County Commissioner Jack Hilbert said flatly, "There is no funding for the project and the County will not reprioritize its current road improvement commitments." The roadway's price tag could run from $25 million dollars to $35 million dollars or more, according to a PAW and Associates funded study by Aurora-based THK Associates.
Lay explained that his clients are looking to partner with Douglas County, Parker, Colorado Department of Transportation (CDOT), and the U.S. federal government to fund the project.
Commissioner Hilbert said "We need to see an actual design – that is beyond concept – that addresses right-of-way requirements, land acquisition, water quality, bridging, and final alignment. The project needs to get on the DRCOG Transportation Plan."
Lay said he plans to make a few more presentations, but added that the roadway's investors are looking for supportive responses in the next several weeks from local officials in order to garner possible federal dollars. If local governmental support doesn't come through, Lay said the roadway investors will likely move on to other opportunities.