New T-Mobile Tower Proposed for Daniel's Gate
August 1, 2008
/
/
Comments Off

on New T-Mobile Tower Proposed for Daniel's Gate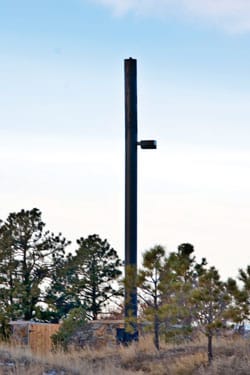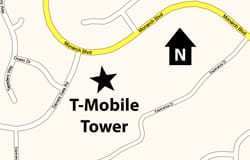 by Terri Wiebold
A third T-Mobile cellular tower is proposed in the Daniel's Gate neighborhood of Castle Pines North (CPN), according to CPN Metro District Manager, James McGrady.
Senior Project Manager representing T-Mobile, Matt Butler, reports that the proposed 45-foot, 18-inch diameter tower will be similar in shape and size to the existing towers at the Community Center and the recently-added tower at The Ridge Golf Course, although the proposed tower will not feature a light.
T-Mobile is going through the new Castle Pines North city planner to get the pole installed adjacent to the pump station in the CPN Metro District open space near the southeast corner of Monarch Boulevard and Daniel's Gate Drive. T-Mobile will also be working with the Metro District to change the screening wall at the existing pump station, and landscaping will be added to further improve the area.
"The site was designed to provide vastly improved coverage to the residents and Emergency 911 needs of T-Mobile subscribers in northern Castle Pines North," said Butler.
The Metro District plans to lease the site to T-Mobile for $1,800 per month. Annual revenues generated by the Metro District from the proposed tower will be approximately $21,600. Currently, the Metro District generates nearly $60,000 annually in cell tower lease revenues from the Community Center and The Ridge Golf Course.
Send questions about the proposed tower to McGrady at Contact by email or call 303-688-8550.