Pine Canyon development annexation on the horizon?
March 1, 2014
/
/
Comments Off

on Pine Canyon development annexation on the horizon?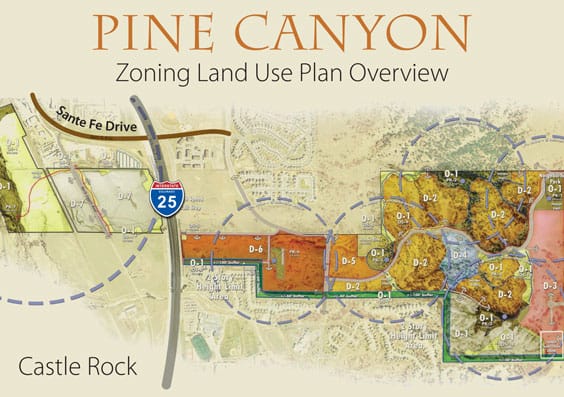 Pine Canyon development, formerly the Woodhouse-Scott Ranch, is a 535-acre mixed-use development that may be annexed later this year by the Town of Castle Rock.
By Elizabeth Wood West; site plan courtesy of The Town of Castle Rock
Pine Canyon, an expansive 535-acre planned development owned by the JRW Family Limited Partnership (Owner), is being considered for annexation by the Town of Castle Rock (Town). Pine Canyon is located on the east and west sides of I-25 south of Founders/Meadows Parkway and north of Castle Rock, reaching from Highway 86 and Founders Parkway at its east border and Plum Creek on its west border.
The Owner of Pine Canyon states it hopes to create a "holistic community where residents can live, work, and play in a spectacular Colorado environment." The project could be zoned for up to 1,555 residential units, designed in a unique combination of single-family homes, multi-family units, and hotel/resort units. The Owner estimates that the property could support up to 900,000 square feet of office space, 130,000 square feet of retail, 208,000 square feet of light industrial, and 117,000 square feet of lodging; thirty-three percent of the site would be designated for public parks, trail corridors, open space, and/or school uses.
According to Jason Reynolds, Town development services project manager, staff will review the project to determine if it meets state annexation submittal requirements and will hold a compliance hearing to make an eligibility determination. If the project is declared eligible for annexation, Town staff will then schedule public hearings with the Town of Castle Rock Planning Commission and Town Council to decide whether Pine Canyon should be annexed. Town staff will also contact referral agencies, including Douglas County and the Colorado Department of Transportation for comment. Reynolds expects to schedule public hearings this summer.
According to Adam Speirs, archivist with Douglas County Libraries, Pine Canyon was formerly the 1,000-acre Woodhouse-Scott Ranch, one of Douglas County's original homestead ranches dating back to 1885. The small ranching enterprise can still be seen today from I-25 and produces a good hay crop annually for the Woodhouse-Scott descendants.
For further information, contact Jason Reynolds at 720-733-3537 or e-mail.