Prom night comes to Legacy Village
January 1, 2020
/
/
Comments Off

on Prom night comes to Legacy Village
By Kathy Fallert; photos courtesy of Karly Bloom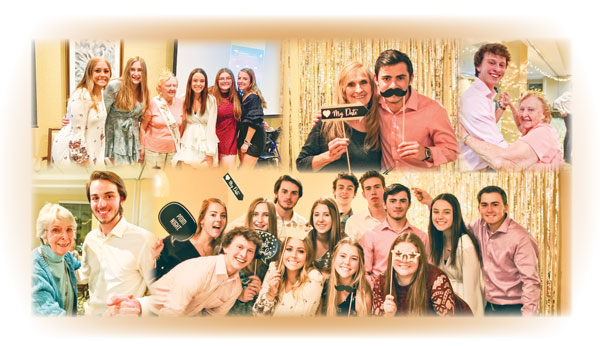 Senior Studies is a team-taught class at Rock Canyon High School (RCHS) that combines language arts, social studies and service-learning. The class provides students more experiential learning opportunities through field trips, panel discussions, long-term service projects and group work with 50 hours of community service required for each semester. Co-teachers, Karly Bloom and Katie Lemeshewsky put a lot of focus on giving back to the community. This led five students to recreate a prom night for the residents of Legacy Village (LV) of Castle Pines on a Friday in November.
Bloom said, "We prioritize experiential learning and getting kids out of the classroom together.  For this particular project, students were placed in groups of five and had to come up with an idea to give back to a community of people."  For the LV prom night, the five seniors in the group were Sophia LaPree, Zoe Lucas, Jenna Lakomy, Lauren Karaba, and Courtenay Krause, a few of whom pass by LV on their way to school.
The students came up with the idea during homecoming week and thought it would be something really fun to do for the residents at LV.  With the spirit-filled homecoming week at RCHS, the students were feeling especially inspired.  Bloom recalled, "They wanted to spend time with a community of people with whom they don't have a lot of experience interacting. The students called Darcy at Legacy Village, who was incredibly supportive of our students and their idea.  The students came up with the theme 'Under the Stars' and declared it a black-tie event.  Students wore their homecoming dresses, and about 40 Legacy Village residents dressed up and came to dance."
One resident at LV named Gloria reminisced about her own high school prom in 1942. "Her date had made her late, and she missed being crowned the prom queen.  Our students tried to make up for it over 75 years later, and they crowned her as prom queen at Legacy's Senior Prom," Bloom reflected.
The group of students encouraged their fellow Senior Studies classmates to come to the prom to help. Close to 20 of the 62 students did just that, bringing along food and drinks for the residents as well. Students went around the room asking the residents to dance. The night ended with all seniors, young and old, having a fun and memorable evening.