Promenade at Castle Rock's new tenants arrive in time for holiday shopping
December 1, 2015
/
/
Comments Off

on Promenade at Castle Rock's new tenants arrive in time for holiday shopping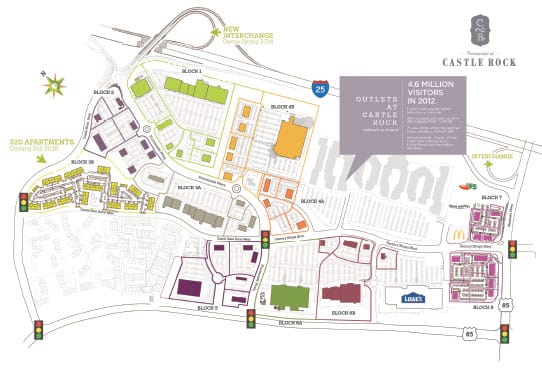 Many of Promenade at Castle Rock's new tenants are open and ready for business, just in time for holiday shopping. Promenade is located next to the Outlets at Castle Rock, on the west side of I-25 and Founders/Meadows Parkway in Castle Rock.

By Elizabeth Wood West; site plan provided by Alberta Development Partners
With the holiday shopping season in full swing, bustling crowds of shoppers now have new stores and restaurants to visit at the Promenade at Castle Rock (Promenade) retail mall.
Promenade, owned by Alberta Development Partners, is a $180 million dollar, 200-acre development that will include approximately one million square feet of large retail, restaurant, and other mixed use development, along with 350 multi-family residential units. The Promenade project is located adjacent to the Outlets at Castle Rock, on the west side of I-25 and Founders/Meadows Parkway. The new shopping area has seen a flurry of construction activity this past summer and fall, which will continue well into 2016 as other tenants open their doors for business.
The Promenade tenants that are already open and/or will be open before year's end include Kneaders Bakery & Café, Tokyo Joe's, Cafe Rio, MAD Greens, Mod Pizza, Smashburger, Jersey Mike's Subs, AT&T, Bar Nails & Spa, Elements Massage, The Joint, and Waxing the City.
Promenade's 2016 tenants will include Sports Authority, TJ Maxx/Homegoods, Ulta, and Berry Blendz. Other future tenants will include Sam's Club and a new King Soopers that will feature a fuel center and drive-up pharmacy.
On the northern and western borders of Promenade, another flurry of large scale roadway construction is underway as the Town of Castle Rock's (Town) North Meadows Extension (NME) multi-million dollar roadway project advances to its scheduled summer 2016 completion. The NME is a construction partnership between the Town, Douglas County, and the Colorado Department of Transportation. The ambitious project is designed to alleviate traffic congestion at I-25 and Founders/Meadows Parkway and U.S. Highway 85/Meadows Parkway, and will provide a new access for Promenade.
For information about Promenade at Castle Rock, visit www.shoppromenadecastlerock.com. For information about the North Meadows Extension roadway project, visit www.crgov.com/NME.