RCHS Fire Science Program prepares students for emergency service
October 1, 2017
/
/
Comments Off

on RCHS Fire Science Program prepares students for emergency service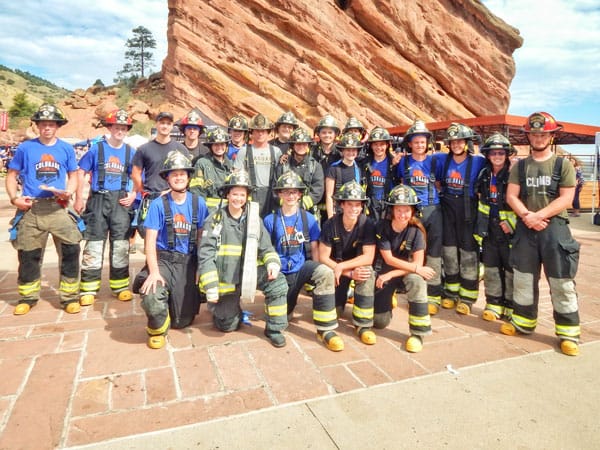 Red Rocks Amphitheatre was the perfect backdrop for the Rock Canyon High School Fire Science class participation in the in the 9/11 Memorial Stair Climb on September 11.
Article and photos by Lisa Nicklanovich
The Rock Canyon High School (RCHS) Fire Science (FS) class does not just take place in a classroom; students learn about wildland firefighting, ice rescue, car excavation using the jaws of life and aerial operations, all out in the field and often in collaboration with Littleton Fire Rescue. Allen Chapman, chief of the FS program, was a Littleton firefighter for 10 years and said the program is very much like a fire academy, just on a broader scale.
Brody Laughlin, a junior at RCHS and 80108 resident added, "I really enjoy the program because it is different than any other class at RCHS. Most classes you take to get good grades to benefit yourself, but in fire science you are training for the benefit of other people and to help them if they ever have an emergency. There isn't another program in Douglas County where you can learn how to help the community in so many ways."
Chapman said, "The program is not just for students who are interested in fire science; we have students who are interested in being flight nurses or going to nursing school. For those interested in the military, law enforcement, or any public service, the program is a good way to get a taste of what it would be like. We are even working with a company who designs fire prevention (sprinkler) systems so those interested in fire engineering should apply."
Ashton Morgan, a senior at RCHS, is looking forward to CPR training and ride-alongs with Littleton Fire Rescue, but he said his favorite part of the program is how close everyone is. Chapman said the family-like atmosphere began with George Piccone, who started the program at RCHS, but he said, "A real camaraderie is created when students have to work through a scenario together like getting hoses from the truck upstairs like in an apartment building or loading hose back on the truck. It's a team-oriented environment and if someone is struggling, the students will help their brother or sister out."
The RCHS FS program is open to all students (juniors and seniors) in the Douglas Country School District, as well as Littleton public schools through the Career and Technical Education (CTE) program. Interested students should apply through their school's counseling department.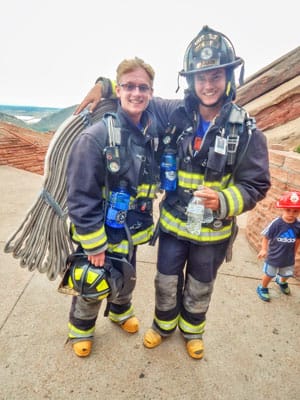 Zander Robinett (left) and Brody Laughlin (CP) (right), students in the RCHS FS program, took part in the 9/11 Memorial Stair Climb at Red Rocks. The students are too young to remember the events of that day, so in addition to preparing physically for the challenge, they also prepared mentally. "We watched a documentary in our Fire Science class about 9/11 from a firefighter's view. It was extremely sad, and there wasn't a person in the class who wasn't tearing up a little. Besides the sadness, though, it got me excited and encouraged to do the climb for those who lost their lives," said Laughlin, a junior at RCHS and an 80108 resident.