RCHS students make an impact at "Ski 'n' Serve"
February 1, 2013
/
/
Comments Off

on RCHS students make an impact at "Ski 'n' Serve"
The Impact edVenture "Ski 'n' Serve" group pose with Elliot, who won everyones' hearts with his spirit and courage.
By Lisa Nicklanovich; photos courtesy of Impact edVentures
Three Rock Canyon High School (RCHS) students – Joe Giampietro, Ethan Thompson, and Christian Herman – along with other students from Highlands Ranch, spent part of their holiday break helping kids with disabilities enjoy the slopes at Winter Park. Impact edVentures partnered with the National Sports Center for the Disabled (NSCD) for its first annual "Ski 'n' Serve."
The students mentored, helped with adaptive ski lessons, prepped the course each day for the Paralympic athletes, and helped with organizing all the special equipment for youth with disabilities such as spina bifida, autism, and Down syndrome.
Nicole Mohobian, director of client and public relations, and her partners started edVentures in 2011 to target those who "desire adventure, education, and purpose wrapped into a single excursion." Mohobian explained, "our mission is to grow student leaders with global minds and serving hearts." Giampietro skied with Elliot, a seven and-a- half-year-old from Missouri who was born with spina bifida, keeping him in a wheel chair. "Elliot changed my whole view on what life is all about. He was so stoked to go skiing and he motivated me to be the best person I can be and to push myself. He is a reminder that life is what you make of it."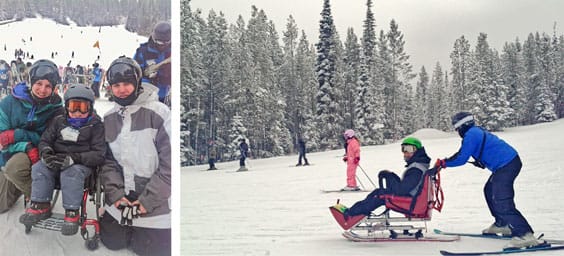 Left: Elliot (center) enjoyed every minute on the slopes of Winter Park with Joe Giampietro and Christian Herman. Right: An NSCD instructor pushes Ethan Thompson in one of the sit skis so he can experience skiing from the kids' perspective.
Thompson tried out a sit ski and said, "It was a completely eye-opening experience for me. It helped me understand how strong and courageous the athletes with disabilities are."
By cooperating with local non-profits in long-term, sustainable relationships, Mohobian stated, "we're sowing a connection between the kids serving and those they serve that endures. Once their passion is ignited, the students go beyond gaining an awareness and community service hours; they want to impact the world around them." Proof is in the fact that Giampietro and Herman headed right back up to the mountains to volunteer again in January.
EdVentures next trips include a "Surf 'n' Serve" trip to Costa Rica during spring break and a "Ski 'n' Serve" in Chile in July.
For more info, go to www.impactedventures.com and also "like" them on Facebook.