Rock Canyon alum hits the ice at Pepsi Center
December 1, 2016
/
/
Comments Off

on Rock Canyon alum hits the ice at Pepsi Center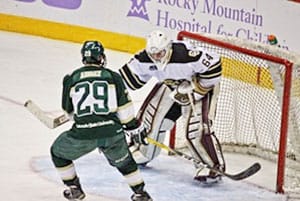 Ansay, #29, takes a shot on goal during the 2016 Rocky Mountain Center Ice Showdown.

Article and photos by Elean Gersack
On Friday, November 4, Rock Canyon High School alum and current Colorado State University junior Austin Ansay hit the ice at the Pepsi Center for the 2016 Rocky Mountain Center Ice Showdown against The University of Colorado.
Each year, these two rival teams play back-to-back games, one night at one of the home ice arenas and the next night at the Pepsi Center. It's a dream opportunity to play on the big stage for sure.
The CSU Rams are part of the American Collegiate Hockey Association Division I League. They play nearly 40 games across the country each year from September through February. Ansay has played on the team during each of his years at CSU and, in addition to his close-knit family, finds hockey a central part of his life. He's played the game since the ripe age of five and was named CSU's Rookie of the Year during his freshman year. "The brotherhood bonds and our love for hockey will last a lifetime," shared Ansay.

Austin Ansay, Rock Canyon High School alum, takes the ice at the Pepsi Center on Friday, November 4 for the 2016 Rocky Mountain Center Ice Showdown.
One of his biggest fans is his grandmother. "I have always called him "ASGD" (awesome super grandson dude)!" shared Karen Armato (aka "Maggie" as affectionately named by Austin when he was just learning to talk).
In between periods during the game, those in attendance had some big fun being on the mega screen. It seems that everyone had a chance to dance and laugh for all to see. So, while it is a game and one team wins and the other loses, this night is also about good old-fashioned fun for the whole family.
Unfortunately, the Rams lost their battle that night, tying the series 1-1 with a win the night before in Fort Collins. For his family and friends who support him endlessly, the games are more about watching a good kid turn into a great man. "Austin took off his gloves and shook all of the refs' hands as he left the ice. The only player to do that … and that's why we went, for Austin, the sweetest, classiest, and most fiercely competitive college guy we know!" shared family friend, Stephanie Pike.