Rockslide Raises Thousands for Local Schools
December 1, 2006
/
/
Comments Off

on Rockslide Raises Thousands for Local Schools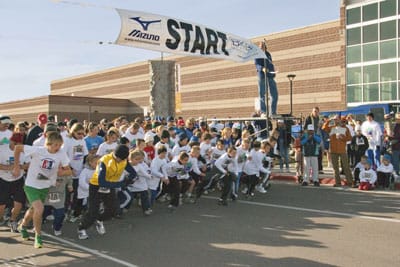 by Elean Gersack
With overcast skies and crisp air, it was the perfect morning for a little outdoor exercise. On November 11, just fewer than 1,400 runners and walkers hit the pavement at Rock Canyon High School to raise money for local schools during the 2006 Rockslide.
Students, teachers, families, and friends from American Academy Charter School (AACS), Buffalo Ridge Elementary (BRE), Timber Trail Elementary (TTE), DCS Montessori School (DCS), Redstone Elementary (RE), Rock Canyon High School (RCHS), Rocky Heights Middle School (RHMS), and Wildcat Mountain Elementary (WCM) came out in droves to participate in this annual event.
Joe Kappes, a tenth grader at RCHS, was the male winner in the 5K, and Patti Bauman, representing the 35-50 year-old category for BRE, was the female winner in the 5K. Kappes finished the race in 19 minutes, 15 seconds and Bauman finished in 22 minutes, 23 seconds.
Although many adults faired well, the students were the big winners. Many of the top 15 male and female finishers in the 5K were students: Will Steffee (fourth grade at BRE, 9th overall), Kyle Huebsch (fifth grade at BRE, 11th overall), Eric Hallberg (seventh grade at RHMS, 7th overall), Daniel Waltimire (eighth grade at RHMS, 14th overall), Daniel Tobey, ninth grade at RCHS, 15th overall), Haley Olcott (seventh grade at RHMS, 4th overall), Lindsey Skinner (eleventh grade at RCHS, 11th overall), Gabi Johnson (tenth grade at RCHS, 5th overall.), Taylor Renda (seventh grade at RHMS, 13th overall) and Abigail Fuselier (seventh grade at RHMS, 14th overall).
Alex Sampson of Timber Trail Elementary came in first place for the kindergarten-age boys 5K race. He finished in 37 minutes, 54 seconds and attributes his win to practice, eating a good breakfast, stretching, and having fun. Friends from RHMS, MacKenzie Stewart and Alie Selka won first place in the eighth grade girls one mile and 5K, respectively. Selka is a cross-country runner and Stewart does a lot of running in physical education classes. "It was so much fun – we will definitely do this again next year," said Stewart and Selka.
Immediately following the 5K and one mile races, participants enjoyed a pancake breakfast sponsored by the Kiwanis Club of Castle Pines. A rock-climbing wall, face painting, and event-sponsored booths were also on hand for entertainment.
Cash and in-kind donations for the event were in excess of $39,000. Each participating school will receive $10 for every participant registered with the school. Buffalo Ridge Elementary (BRE) was awarded the top school award for having the highest percentage of participation and will receive an additional $1000 bonus. "We are so excited – the money will go straight to our classrooms," said Ally Berggren, Principal of BRE. Other schools will put race proceeds towards such things as new physical education equipment (RHMS), a new permanent building (AACS), and science and reading programs (TTE).
"I am thrilled with the race turnout this year and with our partnership with the Kiwanis Club of Castle Pines for the pancake breakfast. The Kiwanis' Second Wind Fund for suicide prevention puts kids first in our community. I am thankful for their efforts and feel fortunate that we were able to team up for the Rockslide this year," said Stacie Sneider, 2006 Rockslide race coordinator.
Countless volunteers and sponsors helped make the 2006 Rockslide possible. Special thanks each school for providing volunteers on race day, Boy Scout Troops 637 and 316 for handling race marshal duties, and to the platinum event sponsors: SafeSpalsh Swim School, I9 Sports, Cold Stone Creamery, Bumgardner & Linn Orthodontics, Kiwanis Club of Castle Pines, Dawn Tieken – Mile High Agent.com, Home123 Mortgage, Castle Pines Orthodontics, Nick -N- Willy's Pizza, Fox & Norwood Pediatric Dentistry, Castle Rock DRX, Castle Pines Magazine, Dreamcatcher Custom Travel Services, and Hallmark Management.
For a complete list of race results, visit www.bkbltd.com/results or check the Rockslide website at www.dcrockslide.com. For more information about the Kiwanis Club of Castle Pines' Second Wind Fund, visit www.cpkiwanis.org.