A perfect ACT score and so much more
February 1, 2020
/
/
Comments Off

on A perfect ACT score and so much more
By Maddy Merritt, RCHS intern writer; photo courtesy of Sage Wheeler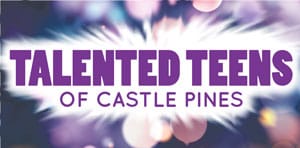 Rock Canyon High School (RCHS) senior Sage Wheeler earned a perfect score on the ACT. It was his second time taking the test.
To study for the test, Wheeler used the Official ACT Prep Guide by Wiley. He did numerous practice tests which he said is the best way to learn how to summarize the passages and know what math concepts the test emphasizes. "Practice, practice, practice is the best thing I can say [to do] to get the timing down… and know what the test is going to look for," Wheeler said.
Wheeler is involved in RCHS's broadcasting program, RCTV. He works with a group to make short films, music videos, and documentaries; the team also livestreams RCHS sporting events such as basketball and volleyball. "It's the most fun when you work on a project from beginning to end and get to see it going up in homeroom class," Wheeler said about RCTV.
Wheeler has a number of other interests from biotech to tech theater. Currently, he is conducting biotech research to find the most efficient plant treatment solution to improve nitrogen levels in soil in low-income areas. He is tech director for the tech theater program at RCHS. Wheeler serves as vice president of the National Honor Society and is also a member of both the Science National Honor Society and the Spanish National Honor Society.
Last summer, Wheeler volunteered at the Emily Griffith Technical College in the English learning and acquisition department where he helped refugees learn to speak English, use computers, develop skills and create portfolios.
Outside of school, Wheeler loves to cook. His favorite thing to make is homemade macaroni and cheese; he uses family recipes and bakes with his mom and sisters sometimes.
Wheeler has applied to numerous schools, both in and out of state, and has interests in film, English and engineering. "I'm just passionate about all of those things," Wheeler said. He hopes to find some way to combine them in his future career.
Wheeler's favorite part about school is being able to apply what he learns to real life, "like cooking and chemistry," Wheeler said. "Learning is cool; it makes you such a better person. If you learn one new thing every day, it makes your life so much more interesting."