August 1, 2008
/
/
Comments Off

on SayYes2Libraries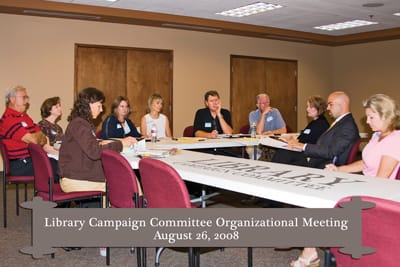 From left to right around the table, Lindsay Kamel, Bob Hanak, Sandra Kip, Laurel Mueller, Sue Wagoner, Corbin Wagoner, Warren Lynge, Aspen Walker, Justin Van Landschoot, Lisa Albro
by D. Corbin Wagoner
In the classic 1948 movie, "The Treasure of the Sierra Madre" directed by John Huston, starring Humphrey Bogart, a now famous line was etched onto our consciousness: Badges, we don't need no stink'n badges.
This November 4th, a similar statement may be heard: "Taxes, we don't need no stink'n taxes." Really? If you invested $1 and received $5.02 in products and services would you consider that a good deal?
A 2007 study
(www.lrs.org/documents/roi/douglas.pdf) showed that one dollar ($1) invested in the Douglas County Libraries returns $5.02 worth of goods and services—that represents a whopping 400% Return on Investment or said another way—5 times the original amount is returned in goods and services! This incredible example of efficiency confirms that Douglas County Libraries are operating at peak efficiency and have earned your support. This high level of efficiency has been accomplished through technology upgrades, efficiency improvements, centralized purchasing and high utilization of volunteers.
Have you ever purchased a book at Barnes & Noble or Borders or The Tattered Cover? Do you remember what you paid for a hardcover book at a bookstore—$25.00 or perhaps $30.00 or more? What will it cost to have new libraries and updated libraries in Douglas County? Not much. If your home is worth $300,000, the total cost would be $23.88 per household per year—less than the cost of a hardcover book. This works out to a property tax increase of only 1.0 mill, and .4 of that will go away or "sunset" once the new buildings are paid off in approximately 15 years. When the .4 mill is retired, the remaining .6 would continue to pay for operations, staff and materials.
On November 4th you will have a chance to vote YES on the ballot for Douglas County Libraries. A YES vote will provide you and your community with three new libraries—one in Castle Pines (in leased space) at the northwest corner of Monarch and Castle Pines; a new library in Parker (on donated land), and one in Lone Tree (also on donated land). In addition to three new libraries, renovations and upgrades are planned for the Philip S. Miller Library in Castle Rock and the Highlands Ranch Library.
The SayYes2Libraries campaign is about more than new libraries. It is about acquiring more space for families to bring their children to complete homework assignments. SayYes2 Libraries is about acquiring more books and computers and resources for small businesses. SayYes2Libraries is about providing much needed space for story-times. SayYes2Libraries is about additional meeting rooms, study space and programs. And SayYes2Libraries is about purchasing additional books, movies, CDs and other media throughout Douglas County Libraries to make it easier to find new best sellers ready to be enjoyed.
The last increase was 12 years ago. Douglas County Libraries are out of space and straining to meet demand.
This November 4th you will have the opportunity to SayYes2Libraries. Please vote YES for libraries. For more information please send an email to Contact by email .