Searching for Safer Sled Hill Access
November 1, 2007
/
/
Comments Off

on Searching for Safer Sled Hill Access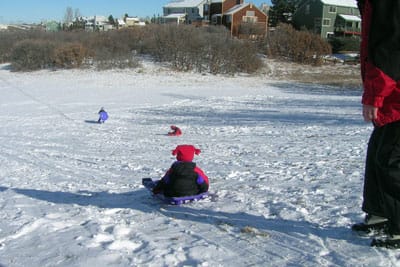 by Terri Wiebold
Fall in Castle Pines North (CPN) came and went quickly this year, as our first snow hit in early October. With the snow each year comes many safety concerns in the community, especially in regard to pedestrians and sledding.
Unfortunatley, one of the most popular sights for sledding in CPN happens to be at an intersection with limited protection from traffic, as well as limited parking and pedestrian access.
The Castle Pines North Maser Association Safety Committee, as well as the Parks Authority and the CPN Metro District, are encouraging residents to use caution when venturing out to participate in these activities in the coming months.
"While we are working on safety precautions at the current sledding location, these things take time," said Castle Pines North Parks and Open Space Manager Charlie Fagan. According to Fagan, the Metro District is researching the option of installing a sidewalk (in its easement) along the south side of Castle Pines Parkway between Shoreham and Monarch Boulevard.
This is one of many options the District, in conjunction with the Master Association and the Parks Authority, has explored to improve safety in the area. Residents are reminded that parking along Castle Pines Parkway is prohibited, and drivers are encouraged to utilize the convenient parking lot just around the corner at the Retreat Park (only about 1,000 foot walk).