Senior fraud in the form of "phishing"
November 1, 2013
/
/
Comments Off

on Senior fraud in the form of "phishing"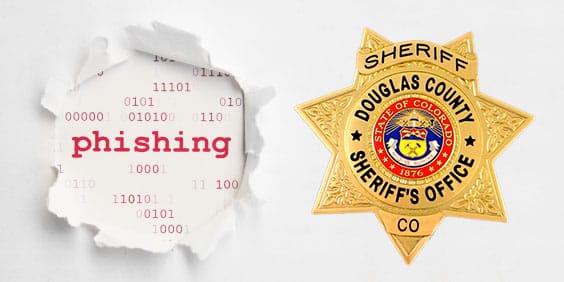 Information provided by Bill Sparkman, PSAC*/DCSO
If you have an e-mail account, it's likely you have received correspondence from the Nigerian lottery, the Canadian lottery, your long lost nephew now stranded in Mexico or some other country. Perhaps FedEx or UPS has contacted you to let you know that they tried to deliver a package to you, but no one was at home? Maybe you have received an e-mail from what appears to be your bank alerting you to a possible hacking of your account?
You are being "phished," and although it's pronounced the same way as you would say "fish," in today's world it takes on a totally different meaning. Phishing is a technique used to find out information about you.
Here's how it works:
You get an e-mail from your bank letting you know that your account may have been electronically hacked. The e-mail has your bank's logo on it and the return e-mail is what you would expect from your bank, perhaps something like Fraud Dept@yourbank.com. Everything looks very official and you read on to find their request for you to send your full name, social security number, and online account password to them immediately in order to resolve the issue and protect your account. Some people will respond per the instructions received, and they may become victims of identity theft.
This is not the way banks or other established businesses contact you if they have a legitimate concern. A reputable financial establishment will never ask for your password, your full social security number, or any personal information about you such as your address or phone number (unless you contact them about an inquiry). The simplest and immediate solution is not to open the e-mail, delete it, and mark it as junk.
Although these individuals may not be trying to get you to send money to them, the information you may be providing unknowingly will be cash in the pockets of identity thieves. Here are a few helpful guidelines about phone inquiries:
– No sales calls should be made by telemarketers between 9 p.m. and 8 a.m. – it's the law.
– The telemarketer must tell you what company they are representing, their phone contact, and what they are selling.
– Never give out ANY personal information about yourself.
– Get the company's name and phone number and ask them to remove your name from their call list and hang up.
Whether you are a senior, relative of a senior, or a friend of a senior, and you suspect that something is not right, get involved and if you think a crime is occurring, call your law enforcement office and report the possible crime. If you have questions about fraud protection, contact Douglas County Community Resources at 303-660-7544.
*The Public Safety Advisory Council (PSAC) is a Douglas County volunteer group serving Sheriff David A. Weaver as liaisons between the Douglas County Sheriff's Office (DCSO) and the community. If you would like to attend a PSAC meeting, e-mail PSAC Chairman Bill Noyce, wnoyce@comcast.net.